| | |
| --- | --- |
| Iditarod day 10 - Zirkle passes King into Safety first! | |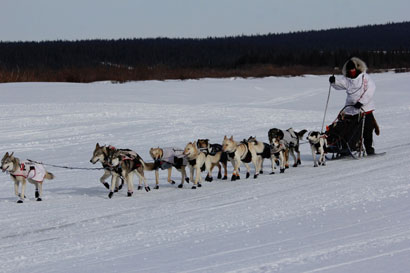 Wow! Just when everyone thought Jeff King was headed to another Iditarod win, he's run into some kind of trouble outside the Safety checkpoint - word is there are high winds over the glare ice, making visibility difficult - and has been passed by Aliy Zirkle!
That's Aliy and team on the right...
The GPS tracker seems to show that both Aliy and Jeff have stopped, perhaps seeking shelter in the wind. Dallas Seavey is in third and still moving, catching up fast. This thing is not over yet...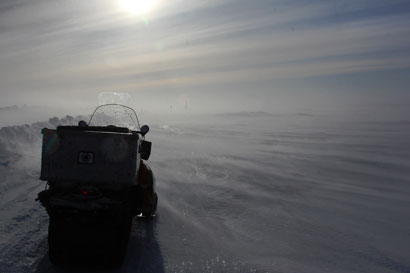 Here's a picture Sebastian Schnulle posted of his snowmachine in the whiteout conditions outside Safety. Perhaps Jeff King lost the trail?
They three leaders are 11 miles apart with about 20 miles 'till the finish, and anything could happen... stay tuned!
(All Iditarod 2014 posts)