| | |
| --- | --- |
| Iditarod day 9 - AM - King into White Mountain, heading for Nome | |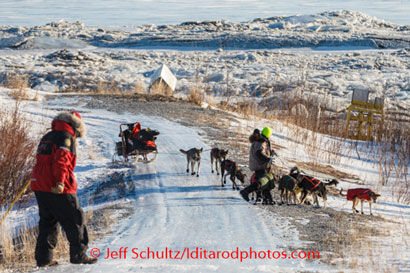 Day nine of the 2014 Iditarod, and it looks to be the finishing day as 5-10 leaders are on pace to smash John Baker's 2011 record by nearly eight hours. Jeff King pulled into the White Mountain checkpoint at 7:00AM this morning, starting his mandatory eight-hour layover. When he pulls out at 3:00PM this afternoon he'll have 77 miles until Nome, and that should take him less than nine hours, so he's likely going to finish *today*. Wow. Aliy Zirkle came into White Mountain an hour behind, and unless she can find some new speed in the final stretch she's going to finish second for the third year in a row.
That's Aliy Zirkle (red) and Jeff King (green) leaving Elim together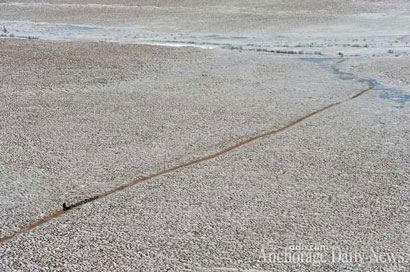 Meanwhile Dallas Seavey has found a new gear and is charging, but it might be too little too late. He's now just three hours behind, but he's running out of track. His father Mitch Seavey is also closing, now in fourth, with Martin Buser and Sonny Lindner fading. That whole group are ahead of Baker's record pace, which shows how the conditions have been bad but fast.
Left: frozen tundra, cold and hard and dirty
Here's the GPS tracker's view this morning: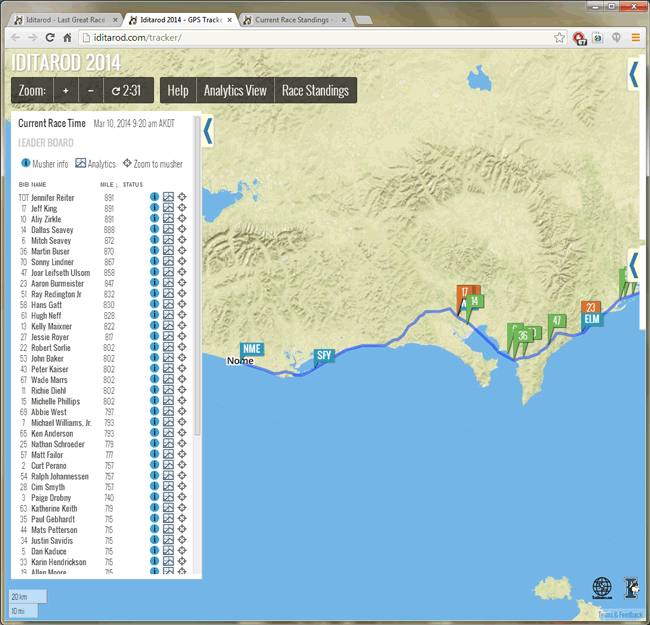 King and Zirkle are both stopped in White Mountain (orange #17), with the checkpoint of Safety and the finish line in Nome left to go. Dallas Seavey (#14) is almost there too, but it will be first in first out with an eight-hour break for all teams. Still mushing from Elim to White Mountain are Mitch Seavey (#6), Martin Buser (#36), and Sonny Lindner (#70), with Joar Leifseth Ulsom charging into that pack (#47). Onward to Nome!
(All Iditarod 2014 posts)