| | |
| --- | --- |
| Iditarod day 8 - PM - Jeff King takes the lead in Kayuk | |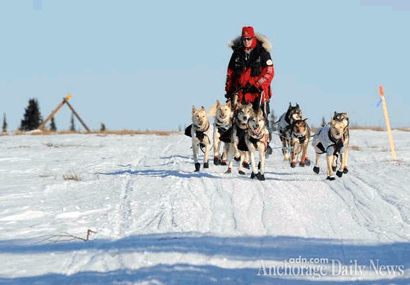 A long cold windy day, with the lead mushers and their teams crossing an unusually barren and snow-free Norton Sound (the race route is actually 12 miles longer because it runs further inland than unusual, to avoid ice fissures). Jeff King caught Aliy Zirkle at the Kayuk checkpoint, and now the two of them are off to Elim, with King slightly ahead. Just behind are Martin Buser, Dallas Seavey, and Sonny Lindner, all resting in Kayuk, and Mitch Seavey and Aaron Burmeister are about to join them. Dallas has put in some terrific runs, gaining nearly 10 hours on the leaders since Kaltag. The experienced musher/bloggers at Iditarod.com are thinking his team might have the chops to win.
Here's the current position, with Elim (ELM) to the West, where the teams are headed, and Kayuk (KYK) to the NorthEast. You can see there's quite a spread now, the big selection has been made. Zirkle (#10) and King (under #10) in the lead, and the others close behind resting at the Kaltag checkpoint: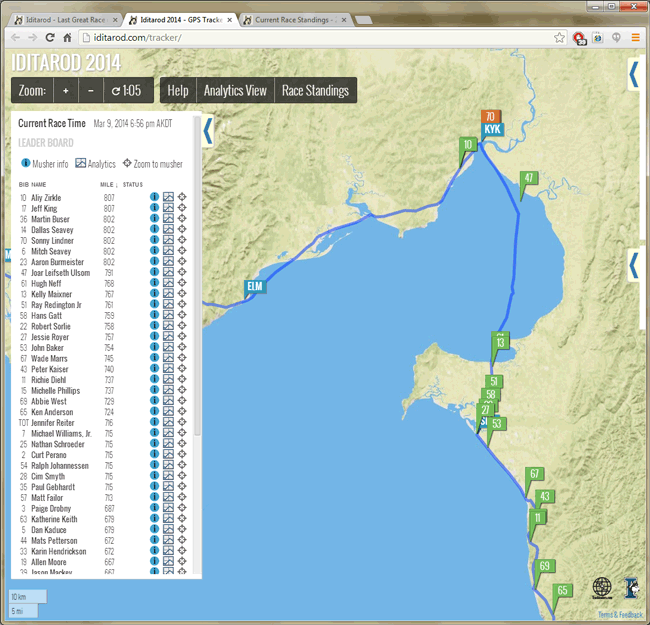 The so-called "heat of the afternoon" never materialized, and it is likely that the leading teams will press on through Elim on to White Mountain, where they must take a mandatory 8-hour break. After that it is 80 miles to Nome. Most years the first into White Mountain is the first into Nome, but this year there are so many contenders so close together that the final stretch may well decide the whole race. Onward!
(All Iditarod 2014 posts)