| | |
| --- | --- |
| Iditarod day 3 - three ways to win | |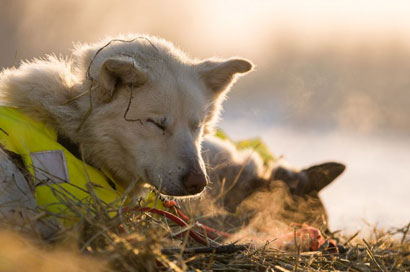 Day three of the 2014 Iditarod is in the books, and three clear strategies have emerged among the race leaders striving to get their dog teams to Nome, first. Remember that each team must take a 24-hour break somewhere along the trail, and an 8-hour break. (There is a forced 8-hour break for everyone in the town of White Mountain at the end, 80 miles from Nome.)
Strategy 1: rest early. (Nikolai) This is the course chosen by Martin Buser; blast off out of Willow, run full speed over the Alaska range, and then rest. Most of the race will pass you, but then you can blast off again and pass them back.
Buser tried this last year, but he got bogged down breaking trail in rough conditions. (The first musher through an area is said to "break" the trail, and it often requires finding it, and finding the best way through it, which takes extra time.)
Strategy 2: rest middle. (Takotna or Ohfir) This is the book move, and the course taken by favorites Aliy Zirkle, Robert Sorlie, and Dallas and Mitch Seavey. You save strength, rest your team while you can, and then take the long rest roughly halfway to Nome. Then you press on at a faster pace and hope your team outperforms the others.
The people with the strongest teams seem to be taking this approach. No tricks, no going too fast or too long. But it also means they could be vulnerable to a different strategy in the hard and fast (and dry and icy) conditions this year.
Strategy 3: rest late. (Cripple) This it a bit unconventional but it has been tried; run as long as you can as steadily as you can, keep moving while others are resting, and then finally rest when you must. Favorites Sonny Lindner, Aaron Burmeister, and Jeff King are all taking this approach.
Observers have noted that run times this year have been fast, even with the tough conditions, making the rest late approach less risky. Of course these teams might not have enough left at the end, and be vulnerable in the long smooth stretches after the Yukon River.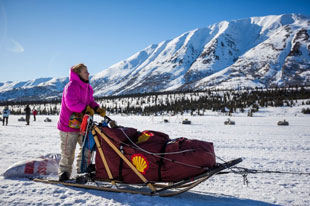 Finally and sadly, our favorite DeeDee Jonrowe has scratched, after a tough run down into Rohn from Rainy Pass. DeeDee lost her team three times in the Dalzell Gorge, and needed help retrieving them. So far twenty mushers have scratched, a record for this point in the race and testament to the tough conditions this year due to lack of snow.
(All Iditarod 2014 posts)