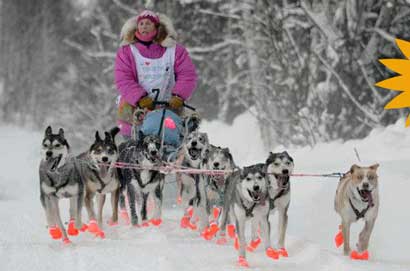 So, are you ready for some sled dog racing?
Tomorrow is the start of the 2014 Iditarod race from Anchorage to Nome, Alaska, celebrating a famous delivery of medicine via dog sled. Iditarod itself is a tiny Eskimo village about halfway along the 1,000 mile route. In recent years the race has alternated between a Northern and Southern route; 2014 is an even year and hence the mushers are taking the Northern Route this year.
Although the race "starts" tomorrow, it is only a ceremonial event with each musher parading through the streets of Anchorage; the true race starts on Sunday, from Willow, and then continues on for 975 miles.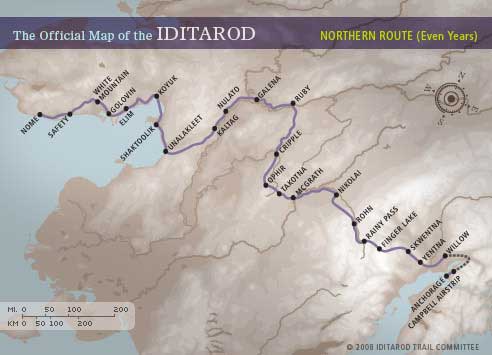 Each musher starts the race with a team of sixteen dogs and must finish with at least five dogs. (Dogs are typically "dropped" at the various checkpoints, due to injuries or because they are tired or under-performing; every dog is examined by a veterinarian at every stop.) Each team must make one 24-hour stop along the way, and two 8-hour stops; when and where to take stops is a key point of strategy.
There are sixty-nine teams starting the race tomorrow, and I am of course rooting for DeeDee Jonrowe, pictured with her team above right. DeeDee has competed in the Iditarod since 1980 and has finished in the top ten fifteen times, including last year. Go DeeDee!
(All Iditarod 2014 posts)