Everybody is rooting for solar power, myself included; at first glance solar power seems to have all the right attributes for a green source of energy. (Entropy!) But on closer examination, it isn't even a contender.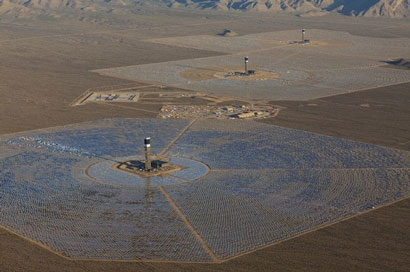 Consider the recent blog post on Inhabitat, celebrating Ivanpah, the world's largest solar thermal plant switching online. "The world's largest concentrating solar power plant, officially started generating energy for California's electric grid. Located just southwest of Las Vegas, the massive solar facility can produce a whopping 392 megawatts of solar energy."
Whopping? Let's just ask, how much electricity does a typical nuclear power plant generate? "In 2012, the 'average' nuclear power plant in the United States generated about 11.8 billion kilowatt-hours (kWh)... The Palo Verde plant in Arizona has three reactors with the largest combined generating capacity1 of about 3,937 megawatts (MW). Fort Calhoun in Nebraska had the smallest capacity with a single reactor at 502 megawatts (MW)."
Okayyy. So the smallest capacity nuclear reactor in the US has a capacity nearly 25% more than the world's largest solar plant. But what about cleanliness? Well let's go back to Inhabitat: "Despite these impressive numbers, Ivanpah has been mired in controversy for its high operating costs and for reportedly killing and scorching alarming numbers of the local wildlife." Hmmm, doesn't sound quite so clean, does it?
The reality is that solar power, like wind power, just isn't ready for prime time as a replacement for fossil fuel power plants, or for damming rivers. The only technology that can deliver the kind of power we need - and the only technology which is truly "cleaner" - is nuclear power. It is so sad that the association with nuclear weapons has put nuclear power on the wrong side of environmental advocates. It is truly our only option.