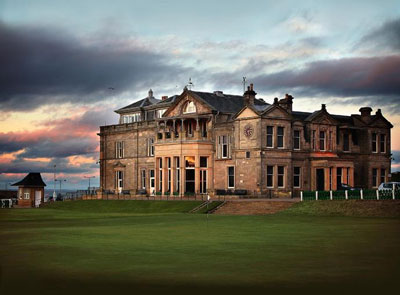 The other night I dreamed about a golf club. It was situated next to a good sized river, and the course itself was on the other side of the river. The clubhouse stood four storeys high, and the top level had a beautiful patio which extended way out over the river. At the end of this patio was the first tee; you started your round by driving over the river onto the fairway, and then by taking a little boat across. The final hole was a long par three spanning the river; the tee was on the course side and the green was adjacent to the clubhouse, so you had to carry the river with your final tee shot. It was awesome.
I don't play a lot of golf and I definitely have never seen or heard of such a clubhouse, and have no idea what put the idea into my head. It was a pretty vivid dream though; I remember a lot of weird details, like a miniature golf course on the second floor featuring a layout which mimicked the full-size course across the river. The third floor had a beautiful restaurant decorated with white walls and pink and purple furnishings, and with a little pond featuring live flamingos. Weird.
You go to sleep, you never know quite where you will go. Good night!