So, today Amazon announced four new Kindles, including the Kindle Fire, an Android-based 7" color tablet for $199. This is not a mere iPad wanna-be, in fact I don't think it is positioned against the iPad much at all. I think this is much more Amazon competing with Wal-Mart than it is Amazon competing with Apple. For the full story, please see Jeff Bezos' keynote: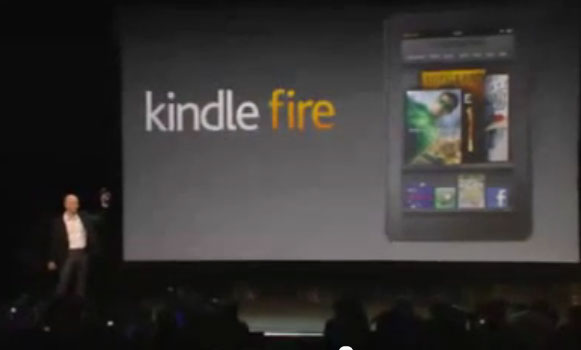 In front of a slide showing logos for Amazon's web services, Amazon.com, Amazon Kindle, Amazon video, Amazon MP3, and Amazon Appstore, Jeff said "we asked ourselves, can we leverage all of these businesses to create a compelling new product that customers will enjoy? The answer is Kindle Fire." You can see from this positioning, Kindle Fire is a portal to Amazon's services, it is *not* a general purpose tablet. And that's why it can cost $199, and that's why it is more of a threat to Wal-Mart than Apple. Overall I agree with this: it's not Amazon vs Apple, it's Amazon and Apple vs everyone else.
BTW I must say I was most impressed with Bezos' speech. He wasn't Steve Jobs, but he wasn't trying to be; he gave a clean crisp presentation of the new products and the logic behind them in a compelling way. He presented only the most important details and arguments, in a calm relaxed manner. Very strong.
The Silk "split browser" that Amazon is using on the Fire is most interesting. In this architecture all page requests are passed from the Kindle clients to Amazon's servers, from where each page is assembled and excerpted from its component parts before being returned to the device. In theory this will make surfing much faster, delivering a better user experience, but there are business implications for Amazon as well. Chris Espinosa's take is compelling: "Amazon now has what every storefront lusts for: the knowledge of what other stores your customers are shopping in and what prices they're being offered there." Look for this architecture to be copied by others... (maybe even using Amazon's own infrastructure :)
Overall I was most impressed by Amazon; instead of building a device and hoping people will figure out why they want one, they've created a content delivery service, with the device as an endpoint. It will be interesting to monitor their traction. Stay tuned!