| | |
| --- | --- |
| US Pro Cycling Challenge, redux | |
I've been watching the US Pro Cycling Challenge in Colorado this week, like all of you cycling fans (you know who you are), and it has been a most satisfying experience. First, we had a world class field for a US stage race, including Cadel Evans, Andy and Frank Schleck, Ivan Basso, etc., as well as the cream of US cycling like Levi Leipheimer, George Hincapie, Christian Vande Velde, Dave Zabriske, etc. Second, the racing took place in *real* mountains - one stage had two passes over 12,000 feet! - and featured amazing scenery and cute towns to rival anything in Europe. And third, there was some great cycle racing, with the final top five separated by less than a minute. Oh yeah, and fourth, we had Phil Liggett and Paul Sherwin on hand to commentate for Versus daily coverage. Excellent.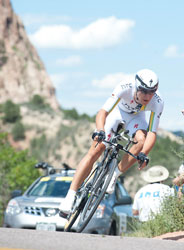 The first stage was a short prologue just outside Colorado Springs, a downhill sprint won by HTC's Patrick Gretsch. It was too short to create meaningful time gaps, but it did provide entertainment.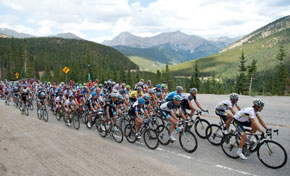 Stage one was interesting, with a long uphill finish in Crested Butte. Levi Leipheimer outsprinted the world-class field to take the stage and the overall lead. Impressive, he was clearly acclimated to the altitude after recently winning the Tour of Utah. Frank Schleck was third, and Cadel Evans fourth, followed by Christian Vande Velde. Also up there was Tejay Van Garderen.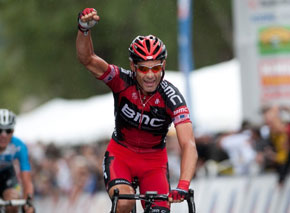 Next up was the "queen stage", finishing in Aspen, and George Hincapie outsprinted the rest of a breakaway to win! Tejay Van Garderen took over the lead, with George second and Tom Danielson third. What a feel-good story this was, huh? Levi lost time on the final descent and dropped to fourth. It was great mountain racing.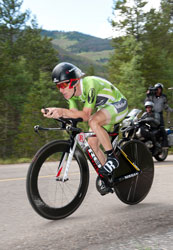 Vail hosted stage three, an individual time trial straight up Ten Mile Road. The pros took around half an hour to ride ten miles, so you know there was climbing involved :) Levi Leipheimer won by less than a second over Christian Vande Velde to retake the overall lead.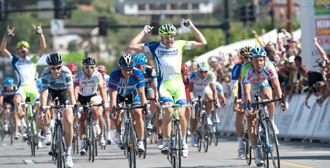 Stage four was the first "sprint" stage, mostly downhill into Steamboat Springs, and Liquigas lead out Elia Viviani perfectly for the win. The GC was unchanged in a relatively undramatic race.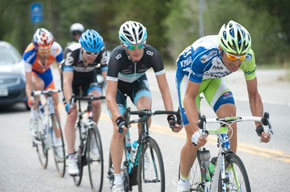 Breckenridge saw the most interesting stage of the whole race, with a serious breakaway comprising Andy Schleck, Ivan Basso, Lawrence Ten Dam, and Tom Peterson clear by four minutes with eight miles to go. One measly cat 3 climb was left. Everyone thought someone in the break would win, and there would be attacks back in the Peloton as Garmin tried to get Vande Velde and/or Danielson time on Leipheimer. So Schleck attacked the break, was pulled back, the break played with themselves, and were caught less than half a mile from the finish. Viviani ended up outsprinting the field to win, and Schleck, Basso, and Van Dam were left to wonder what might have been, while Levi's lead looked safe.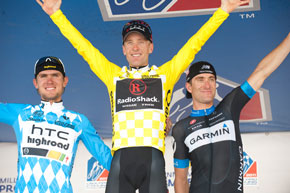 In the final stage into Denver, another field sprint, Daniel Oss won, and Levi was crowned with the GC title. It's pretty cool that with Vande Velde second, Van Garderen third, Danielson fourth, and Hincapie fifth US riders took the entire top five, despite all the foreign heavyweights who came over to race. Should be great next year and for many to come!