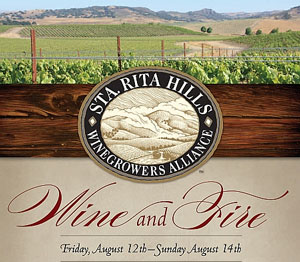 Sometimes you find you are synchronized with the universe, and great things just happen. This is rare so you have to make the most of it, like blogging about it :)
{ I noted on our recent vacation we happened to be in Paris for the finale of the Tour de France. That was pretty cool. }
So ... on the spur of the moment we decided to spend next weekend in Ballard, in the wine country north of Santa Barbara.

Well it just so happens that next weekend the Santa Rita Hills Winegrowers Alliance is celebrating its 10th anniversary (!) with an all-weekend event called Wine and Fire, including a grand tasting, winemaker's dinner, and open houses at a bunch of wineries. You may know, Santa Rita Hills is probably my favorite appellation; the "sideways" valley features the world's best Pinot Noir (sorry Burgundy) and some pretty great Chardonnay too (sorry Napa). In addition to being beautiful and a perfect region for cycling.
So ... we not only get to do a little cycling (!), a little shopping, a little touring and a little hanging out, we get to do a lot of eating and drinking great wine! Yay.