Are you sitting down? Holding any sharp objects? Today Shirley and I rode our tandem! From Ventura to Ojai and back, along the Ventura River Bike Trail, 22 miles out and back.

It's a cool trail, perfect for this purpose, a gradual climb with changing scenery as you leave Ventura's decrepit oilfields, pass through the Ventura River wilderness, and then enter the Ojai Valley before arriving in Ojai itself. The trail is "marked" by an eighteen-piece scuplture called Mark, by Jud Fine; each is a pedestal displaying an ancient oilfield relic, emblazened with a definition of "mark".
After reaching Ojai we celebrated with Margaritas at Las Corparales, next to the central park.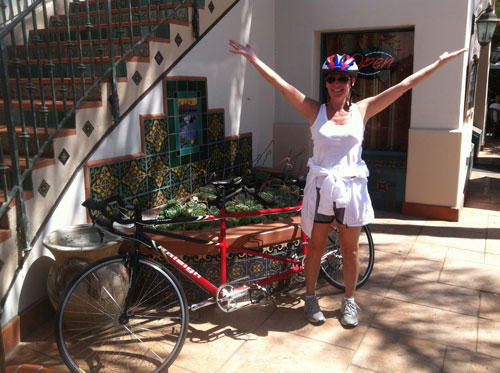 A most excellent adventure, soon to be repeated :)