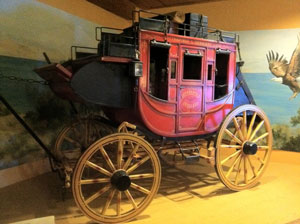 We're back! After a long weekend; Friday Shirley and I drove up to Lake Topaz, Saturday I rode the Death Ride in Markleeville, and today we drove back. It was great - seemed like we were gone forever - and I'll have more to say about the trip later, but for now a quick filter pass...
Another thoughtful post from Scott "Dilbert" Adams: Opinions vs Ideas. Would it help to separate ideas from the people who espouse them? Don't know. It is certainly true that our reaction to an idea is spun by the context in which we hear it. Interesting.
Stephen Green: the Bistromath economy. "The numbers, they are awful." I think there is a realization now that we're truly headed in the wrong direction, and furthermore, it will take time to turn ourselves around. Sigh.
Powerline: Our excuser-in-chief. "One wonders whether, when the history of this era is written, today might go down as a turning point." Maybe.

Dave Winer (formerly an Obama supporter, then an Obama apologist): Maybe Obama will withdraw from the 2012 race. "Obama is so deeply mired in this mess with the deficit. Perhaps the best thing to do is resign himself to being a one-term President and let the Democrats nominate someone else, who can run on a different platform." I would be best for the country and the Democratic party, but don't count on it.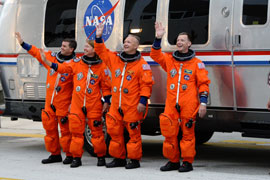 Pic of the weekend: Shuttle Atlantis crew ready for launch. They will be the last... I was never a fan of the Shuttle, but I'm sad that we don't have more manned space activity to replace it. I guess having private companies take over makes sense, but it will take awhile; meanwhile the Shuttle blasts off into history.
Here's a cool history of the Space Shuttle in pictures. Can you remember where you were when the Challenger blew up? I can. I think we all can.

Rand Simberg: six false lessons of the space shuttle.
Brad Feld: things I learned during my first week in Paris. (e.g, "Lunch takes two hours here. That's a good thing.") Good to know. My own trip to Paris is now less than two weeks away!

This is most excellent: the mysterious protractors of Pittsburgh. Sounds like something from a William Gibson novel, and who knows, maybe it is :)
Huh. When women confuse being asked out with being raped at knifepoint. In which "no means no" has become "no means you should not have asked". Sigh.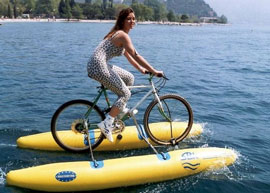 Excellent! Boat + Bike = ????
How to make text look interesting. Interestingly, it is kind of boring :P
Out here in California, the imminent closing of the 405 freeway for two days is causing great angst. It is being called Carmeggedon. Predictably, Hitler reacts.
Longtime mobile device advocate Russell Beattie reviews the HP TouchPad. "Anyone beyond the most fervent early adopter would be very disappointed with their experience after opening their new TouchPad." Yikes.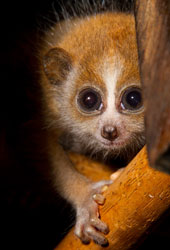 Zooborn of the weekend: a Pygmy Slow Loris.
Dave Winer reacts to Google+: I'm still yawning. Having received a number of invitations to join, I'm a little afraid of it; first, I don't want to mess up my Google experience when I use Gmail etc, and second, I don't need another place to post, as balancing my blog and my Facebook is already a challenge. If someone can explain why I should use Google+ I would be most grateful.