Malcolm Gladwell does a great debunking of the "Apple copied Xerox" creation myth in the latest New Yorker. Many of the original concepts of Apple's Macintosh were developed at Xerox - such as a computer mouse - but the execution and refinement that Apple brought to their implementation was what enabled them to be commercialized.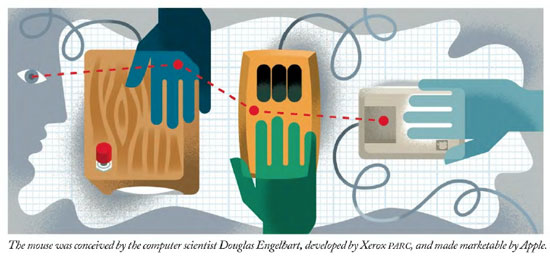 I think about this a lot, and I guess everyone thinks about this a lot; what makes Apple tick? It isn't just the concepts, because they didn't have the first laser printer, or the first ethernet implementation, or the first MP3 music player, or the first laptop, or the first phone :) or the first tablet either! But they were the first to make them awesome, by eliminating complexity and maximizing design and emphasizing usability.
Try to compare an iPhone to a Blackberry or a Palm or an Android. Sure, they all do the same things. But only Apple does them as well as Apple. And that's the key to their success.
I'm attending an Aperio offsite and we are talking about Leadership, and in my opinion the key to leadership is inspiration. And this is why Steve Jobs is such a great leader; he inspires all of Apple to be "insanely great". And they are :)