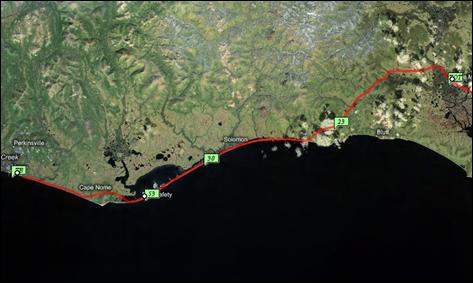 The 2011 Iditarod is in its final stages. DeeDee Jonrowe just arrived in White Mountain where there is a mandatory 8-hour layover; she dropped Peter Kaiser during the night, and briefly dropped Jessie Royer also but recovered to enter the checkpoint in 9th. Leader John Baker took off on the final 75 mile "sprint" to Nome six hours ago and is nearly to Safety, the final checkpoint, just 22 miles from the finish; he looks strong and barring misfortune poised to win. Ramey Smyth is 10 miles behind and chasing gamely. It is now a two-team race.
In the GPS tracker map at right, the TB ("trail breaker") symbol is in Nome at the finish, #53 is John Baker, in Safety, #30 is Ramey Smyth, and #23 is Hans Gatt who is running third. The other mushers in the top ten including DeeDee are all at the White Mountain checkpoint labeled with the TOT ("teacher on trail") marker.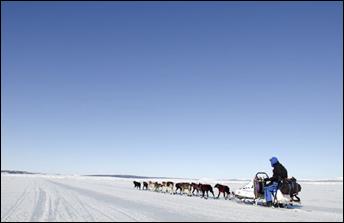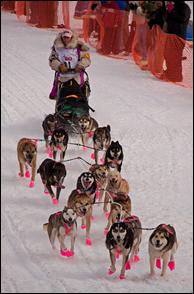 You might be curious to know how the Iditarod race started. This is a nice account of the original "race", to get Diphtheria serum from Anchorage to Nome via a relay of dog teams in a huge storm in 1925. The sled dog race which retraces the route started in 1973. The race has two alternate routes, a Northern route run in even years and a slightly longer slightly easier Southern route in odd years. The record for the race is 8d22h46m, set on the Northern route in 2002 by Martin Buser; John Baker is on pace to shatter that record this year.
At left is a picture of John Baker setting out with his team over the sea ice covering Golovin Bay. At right, DeeDee and her team entering the Elim checkpoint, with trademark pink booties.
Although it isn't DeeDee's year to win, she appears to have managed yet another top ten finish; if she hangs on this will be her 14th out of 30 Iditarods, with only two scratches. That's pretty incredible for anyone, let alone a breast cancer survivor. Maybe next year the weather will be really bad and she'll have a chance to win :)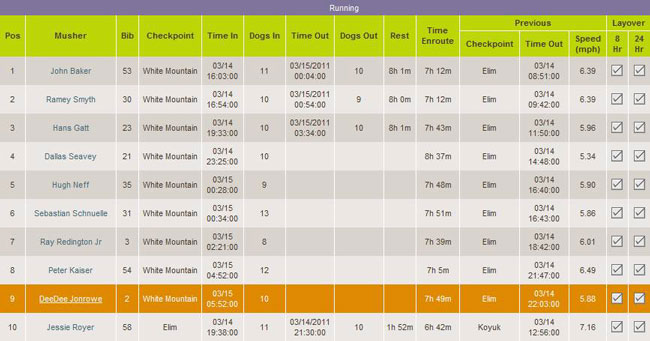 Anyway there's 75 miles left and much can still happen, stay tuned, and go DeeDee!
[ all episodes ]