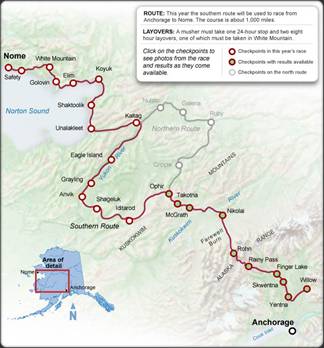 An update on our adopted musher DeeDee Jonrowe. She is presently in 17th place, with 13 dogs left (of 16), and taking her mandatory 24 hour layover in Takotna, 419 miles in out of 1,049. (Every musher must take one 24 hour layover and two 8 hour layovers; as a matter of strategy most mushers get the layovers over with early in the nine day race, so they can sprint to the finish.) With less than half the race run, she is very much in the hunt.
The conditions this year are hard and fast, which does not favor DeeDee's team; she prefers a wet slog :) Later as the teams approach Norton Sound crappy weather is expected which may help her.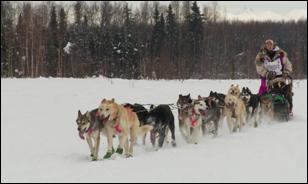 If you're looking for an indication of how she's doing, after getting lost early on (!) and losing a couple of dogs, she has posted the fastest speed over the last leg to Tekotna of any team, so she's running well. Six teams have dropped out and 56 are still racing.
I've found a great source of ongoing information is the Iditarodblog. Another good source is the Anchorage Daily News. This is *the* sporting event in Alaska and is televised live there. A recent innovation is GPS trackers; I'm trying to figure out if there's an online way to follow DeeDee's progress, stay tuned.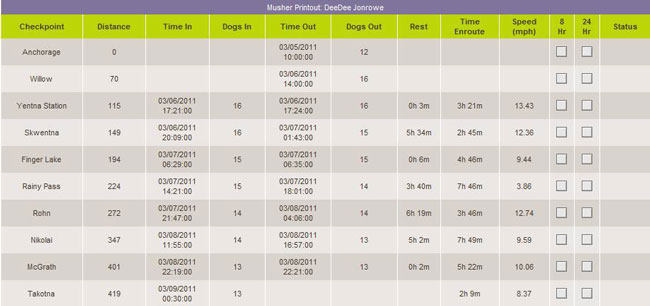 Cheers and stay tuned for updates… go DeeDee!
[ all episodes ]