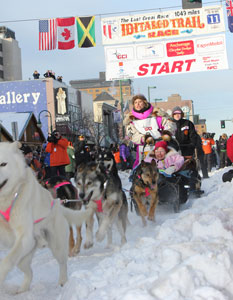 We held Aperio's annual sales meeting a week ago, and at the conclusion we had a very special guest speaker; DeeDee Jonrowe, a world class sled dog racer who is also a breast cancer survivor. DeeDee has competed in the Iditarod race 29 times, and has finished in the top ten 13 times, and 2nd twice. In 2002 she was diagnosed with breast cancer, underwent a double mastectomy and chemotherapy, and recovered, racing in the Iditarod that same year. She has since become a spokesperson and fundraiser for breast cancer, giving inspirational talks and rallying resources. Even her dog team are dressed in pink.
DeeDee gives talks all year long, except a couple of months before the Iditarod, which starts in March. However she made an exception for Aperio because when she heard about what we do, she wanted to fly down and talk to us. Her stories are great and her commitment to bringing current medical technology to remote areas like Alaska is inspirational.
This year's Iditarod race started yesterday (!) and guess what? DeeDee is in first place!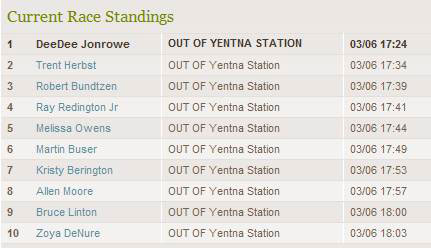 Stay tuned for updates … and go DeeDee!
[ all episodes ]