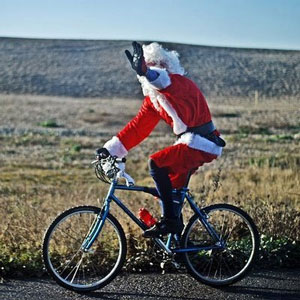 Just wanted to wish you all a Merry Christmas Eve!
Around here we celebrate Christmas with our extended family on Christmas Eve, at Shirley's Mom's house, and there's a frantic sense of impending journey with cooking and wrapping and packing and everyone trying to get dressed. Adding to the excitement, this year Shirley's Mom is in hospital, and we're not sure but we think she might be released this afternoon, possibly in the middle of dinner. We'll see, fXf...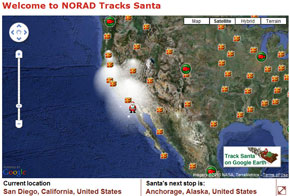 If you're curious what Santa is up to, you might like NORAD's Santa tracker. This excellent tradition apparently began in 1958, when Sears published a Santa hotline number incorrectly, and it rang at NORAD headquarters. Rather than blowing it off they began answering kids calling Santa, and now they have an elaborate website including the obligatory overlay onto Google maps.
Cheers and I hope you all have a wonderful Merry Christmas! (Or whatever it is you celebrate this time of year :)