Yesterday was amazing. I would say it was a perfect "11".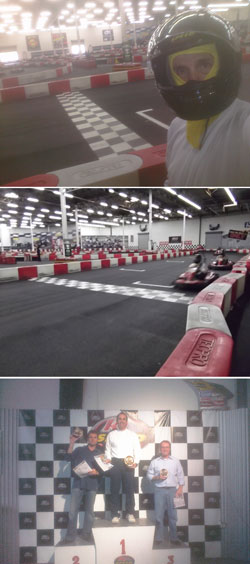 I began the day buzzed with my great victory in Kart Racing with the Aperio Leadership team on Wednesday afternoon. I grant you that racing little electric vehicles around an indoor track isn't the most important thing ever, but it was maximum fun. There were only a few accidents - although I am still loaded with Tylenol - and a great time was had by all. Especially me :)
And of course it was Veteran's Day, and while it isn't necessarily "happy" for everyone I find it to be spiritual and positive. I think about my Dad, and my daughter Nicole, and all the friends and colleagues I have who served in the armed forces, and I think about liberty and freedom and quality of life, and it makes me feel warm and fuzzy.
The day got better as I spent much of it in business reviews, and had several chances to watch people I've coached and teams I've helped build doing brilliant work. I have actually made it to the point where helping others perform gives me as much pleasure as performing myself. Especially in business, which is definitely a team sport. How fun.
Best of all, I've watched an overall strategy I've driven unfold, as we've learned and iterated and tried things and watched them work and not work. It is *so* satisfying to translate learning into action and see the results.
And yes, I was able to celebrate my little anniversary, and yes, it was everything I hoped it would be. My journey beyond Midway continues...