... and so ... today I voted!
Here are my high-level choices: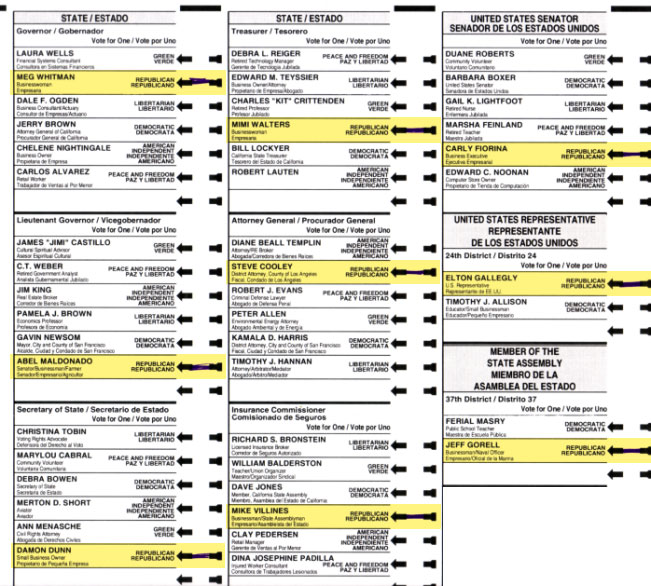 Meg Whitman for Governor is easy; I like her (have liked her since working with her when she was running eBay and I was at PayPal), and Abel Maldonado was easy. I don't know much about Damon Dunn but that's a vote against Debra Dowen. Mimi Walters was a pick against Bill Lockyer. Steve Cooley seems like a decent choice, I don't know much about Mike Villines so that's a dice roll. Choosing Carly Fiorina was painful; I don't like her, don't respect what she did when running HP, but anyone would be better than Barbara Boxer. I like Elton Gallegly a lot so that was easy, and I think Jeff Gorell is a good choice too. So be it.
Okay, now on to the propositions, which are *interesting* to say the least: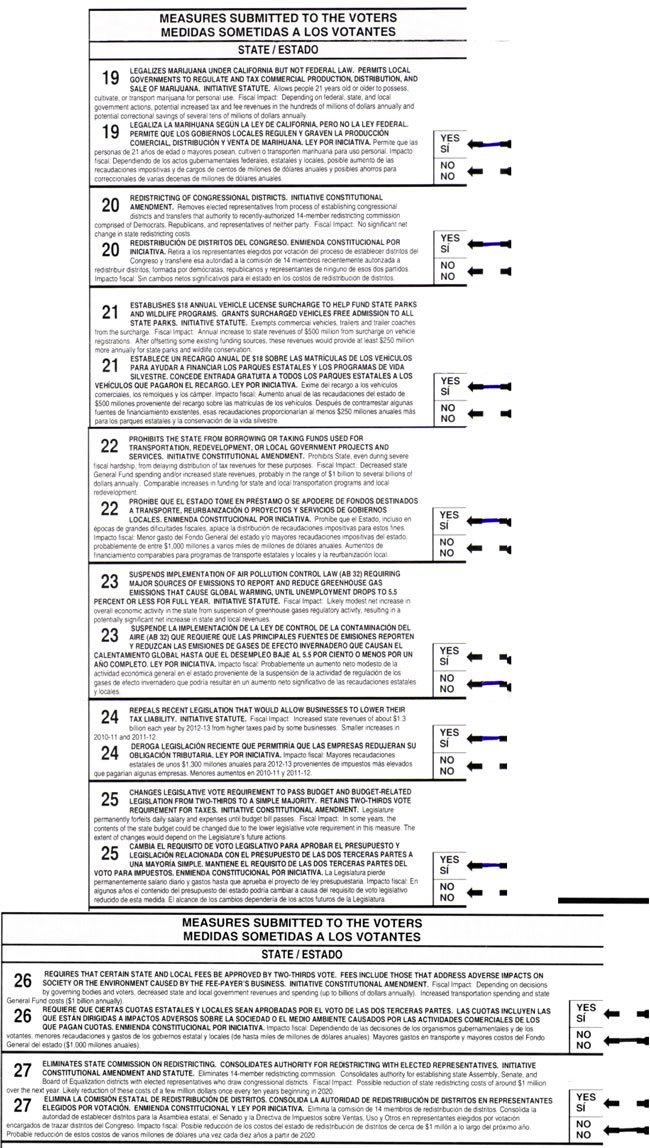 Yes, I decided to vote Yes on Prop 19, "legalizing Marijuana". It isn't as big a change to current policy as some would have you believe, and giving the state some revenue and reducing the black market side-effects seems worthwhile. An experiment to be sure. Prop 20 is great, a definite Yes; I love taking control of voting districts away from the legislators and hopefully reducing some of the gerrymandering that's taken place. Note that you have to vote No on 27 as a companion to voting yes on 20, how bogus is that? I don't like earmarking tax money but voted Yes on 21 anyway to support state parks. Prop 22 is hard to understand but seems like a good thing, and 23 is hard to understand but seems like a bad thing, hence Yes and No. Prop 24 seems reasonable, as does 25, and 26 is a carve-back on 24 so I voted No. You will note that 26 and 27 were on the backside of the ballot, hiding, and each was a carve-back on propositions on the frontside. I hope this was accidental but I suspect it was not, sigh.
This is all just in case you're curious. YMMV for sure.