| | |
| --- | --- |
| the Panamerica - sheep in wolf's clothing | |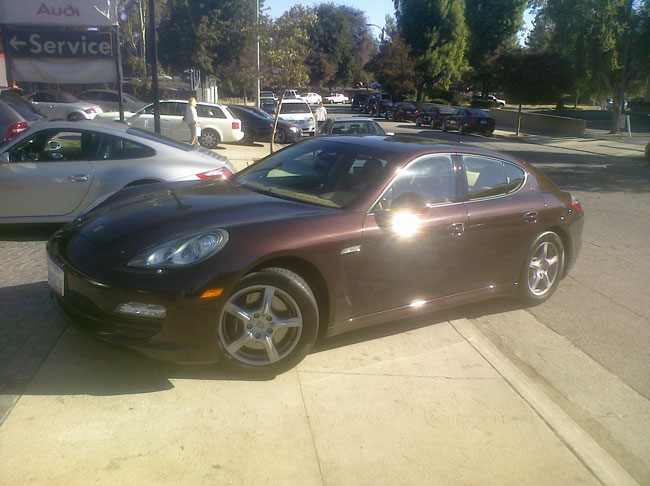 Last weekend I reported the awesome folks at The Auto Gallery have loaned me a brand new Porsche Panamerica! I have driven it all week and returned it this morning. It was a pretty amazing vehicle and I thought I'd share a few thoughts...
It was fun having an *unusual* car; everywhere I went people commented. But nobody thought it was beautiful. It was always like ... "huh, so that's the new four-door Porsche." They successfully incorporated the Porsche design cues from the 911, but they did not end up with a great looking car.
The 3.8L six has plenty of horsepower for daily driving, but it does not excite the senses. You can't hear it roar, and you can't feel it throwing the car forward and smashing you back into the seats. It is not a Turbo Carrera.
The interior is beautiful and beautifully laid out. Nothing bad to say.
The electronics are first-rate. The touch-screen Nav system is excellent. The iPod link is perfect. The sound system is quite impressive for a "stock" stereo (although, like the engine, it will not blow you away).
There is plenty of room in the back seat for two full size people. Is is not a 2+2, it is a true four-door four-seater. And the trunk arrangement is very nice, plenty of room under the hatchback and the rear seats fold down easily for even more room when you need it.
I guess I'd sum it all up by saying it is a Lexus sedan with Porsche styling, a sheep in wolf's clothing (and a very luxurious sheep, too!). If that's what you're looking for, here you have it :)
Home
Archive
flight
About Me
W=UH
Email
RSS OPML

Greatest Hits
Correlation vs. Causality
The Tyranny of Email
Unnatural Selection
Lying
Aperio's Mission = Automating Pathology
On Blame
Try, or Try Not
Books and Wine
Emergent Properties
God and Beauty
Moving Mount Fuji The Nest Rock 'n Roll
IQ and Populations
Are You a Bright?
Adding Value
Confidence
The Joy of Craftsmanship
The Emperor's New Code
Toy Story
The Return of the King
Religion vs IQ
In the Wet
the big day
solving bongard problems
visiting Titan
unintelligent design
the nuclear option
estimating in meatspace
second gear
On the Persistence of Bad Design...
Texas chili cookoff
almost famous design and stochastic debugging
may I take your order?
universal healthcare
entertainment
triple double
New Yorker covers
Death Rider! (da da dum)
how did I get here (Mt.Whitney)?
the Law of Significance
Holiday Inn
Daniel Jacoby's photographs
the first bird
Gödel Escher Bach: Birthday Cantatatata
Father's Day (in pictures)
your cat for my car
Jobsnotes of note
world population map
no joy in Baker
vote smart
exact nonsense
introducing eyesFinder
resolved
to space
notebooks
where are the desktop apps?