Tonight we were guests of our friends Mike and Liz who took us to see the L.A. Philharmonic's Tchaikovsky Spectacular at the Hollywood Bowl. It was indeed spectacular; the entire experience, including the ambiance, eating in their box (lobster salad!), the music itself - violin soloist Baiba Skride was awesome! - and of course the finale, featuring the 1812 Overture, the USC Trojan bands' brass section, fireworks, and yes of course cannon fire. You can't get much more spectacular than that!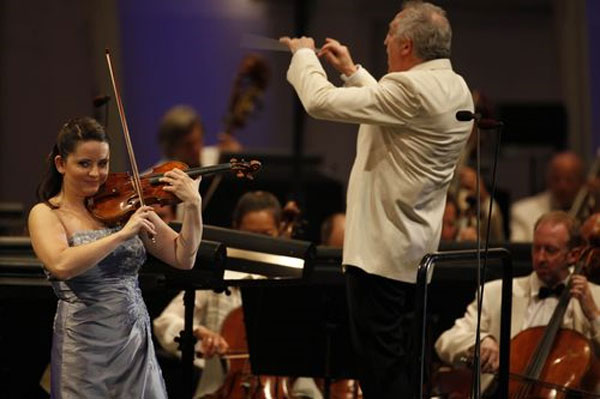 violinist Baida Skride with conductor Bramwell Tovey
Conductor Bramwell Tovey was magnificent, coaxing an energetic Capriccio Italien from the staid Phil, and then a rather peaceful and dreamy Swan Lake, before the excitement of the 1812 Overture finale. Tovey's remarks to the crowd were delightful, about the trombone fanfare at the end he remarked "it is rather hard to ignore them, but I find it is worth the effort".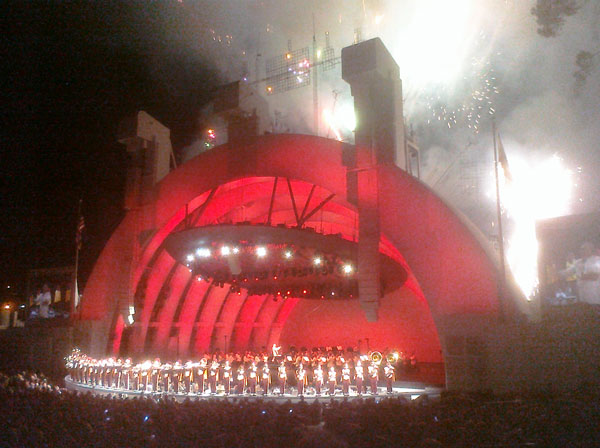 the Bowl in full regalia; USC Trojan brass, L.A.Phil, fireworks, and cannon fire
A great evening and a wonderful example of a uniquely Los Angeles tradition...