| | |
| --- | --- |
| TDF stage 20 / parade + sprint / Cavendish unstoppable again, Contador crowned, Petacchi keeps green | |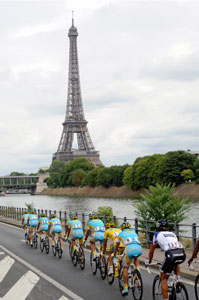 The final stage of the 2010 Tour de France was a parade, as usual, followed by a bunch sprint, as usual, which Mark Cavendish won going away - as usual! Man he is just so much faster than everyone else, it is scary. Thor Hushovd got a great leadout and the camera was following him from the side as he cranked up his sprint, and suddenly Cavendish entered the frame from behind him and blew through, a yellow flash. Wow! Alessandro Petacchi finished a distant second to claim the green jersey; congratulations to him...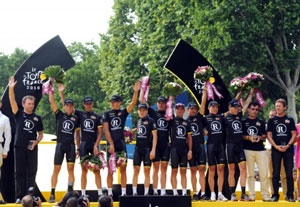 The main excitement of the day occured before the start; Team Radio Shack unveiled their cool new "28" jerseys, all black (memo to self: get one!) only to be informed that they would be disqualified if they didn't switch back. Boo. So we were treated to the sight of nine riders sitting by the side of the road, pinning their numbers onto new jerseys, while the peloton soft pedaled through the neutral zone. Pretty funny. Later the team showed off their new jerseys while being presented as the top team in the 2010 Tour (pic at right). It is fitting that Lance Armstrong's team won, in his final Tour; he has always been about the team, and he came back to cycling to promote Livestrong, his "team" to fight cancer. Chapeau, Lance!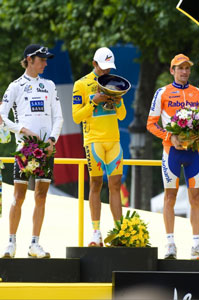 The final podium featured Alberto Contador winning his third tour, Andy Schleck with his second consecutive second, and Denis Menchov, who has won the Vuelta twice and the Giro, and has now been on the podium of the Tour.
It was a great Tour - the best really since I began paying attention, in terms of the competition and the route and all the side stories - and I'm sad it is over. More perspective in a future post, but au reviour Le Tour for now.
[ Tour de France 2010: all posts | index ]