| | |
| --- | --- |
| TDF stage 14 / climb! / Riblon wins from break, Menchov and Sanchez 2nd and 3rd | |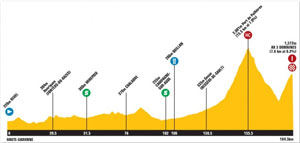 Wow, what a shootout! A *great* mountain stage today, featuring the world's nastiest HC Port Port de Pailhères, 10 miles of climbing at 8%, followed by a steep descent and then the Cat 1 Ax-3 Domaines to a mountaintop finish, 6 more miles of 8%. Wow.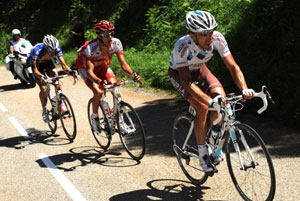 Chapeau to Christophe Riblon who survived all the way from the early break, which had about 5 minutes at the base of the Pailheres. From there steady pressure by Astana splintered the peloton, with various amazing attacks - Carlos Sastre took off, among others - and there were only GC contenders left by the top of the climb. The descent was uneventful, and on the final climb Contador and Schleck marked each other, leaving Denis Menchov and Samuel Sanchez free to take off and engage in their battle for third. Jurgen Van Den Broek lost a little time - he's still in fifth, but barely - and Levi Leipheimer lost a little more time, sinking to seventh, his chances at the third podium spot diminished. All in all it was an exciting bike race, and we can only look forward to three more stages in the Pyrenees.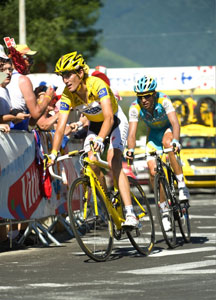 Tomorrow we have more climbing including the HC Port de Bales, but there's a considerable descent from the last climb to the finish, so it could be interesting. Seems like Contador is content to hang with Schleck, feeling that he has an advantage in the final time trial, and Schleck is content to hang with Contador, with the yellow jersey on his back. Either might attack tomorrow however; it has been a great, unpredictable tour so far, and there is much riding left.
[ Tour de France 2010: all posts | index ]