| | |
| --- | --- |
| TDF stage 12 / rollers with a kick / Rodriquez wins, Contador takes 2nd, 10s from Schleck; Vinokourov 3rd | |

Today's stage really lived up to its potential. A huge 18-man break escaped early, with GC contenders Ryder Hesjedal, Alexander Vinokourov, and Andreas Kloden included. That ensured a long hard day for the peloton as Saxo Bank and Lampre tried to keep the break within reach. All were aware of the sharp steep finishing climb waiting at the end.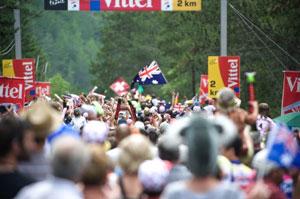 Predictably the break itself was attacked, with Hesjedal, Vino, Kloden, and Vasil Kiryienka escaping off the front, putting even more pressure on the peloton. On the brutal final climb Hesjedal was cracked almost immediately, followed by Kloden, and Vino battled Kiryienka halfway up the climb before shedding him, seemingly on his way to a stage win. Meanwhile the peloton surged up the climb and exploded, spitting out also rans to the back as a back of serious contenders formed in front, grinding up the remnants of the break in the process. And then - Joaquin Rodriguez attacked! and Alberto Contador went with him! and Andy Schleck was left to try to answer. Contador and Rodriquez flew up the hill, passing everyone including Vino at the very end, and Rodriquez out-kicked Contador for the victory. Schleck recovered and gained some time back, eventually limiting his losses to 10s, but it was a moral victory for Contador. The other GC contenders were close but there were a few time gaps, and Levi Leipheimer in particular lost a little in the battle for third place. It was a great race and man was that a nasty climb at the end. Whew!
Oh, and another cool thing? Thor Hushovd made that 18-man break and took sprint points all along the route to regain the green jersey; the wily veteran always seems to do this once or twice a tour. It was beautiful to see him driving the break up those mountain stages. After the last sprint he threw out the anchor; job done for the day.
And so tomorrow we have - more fireworks? We'll see. On paper it looks like a lot of rollers but without enough bite to let a break stay away, so maybe it will end in a sprint. But on the other hand this has been a wild tour and you never know...
[ Tour de France 2010: all posts | index ]