| | |
| --- | --- |
| TDF stage 8 / mountains / Lance crashes and cracks, Schleck attacks for win | |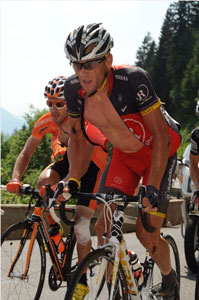 Lance Armstrong has seen many great days in the Tour de France, but now he's seen a horrible one too, as he crashed three times, bonked, and lost over 12 minutes on GC today. He's out of the running now, and I'm sad. Even though it was improbable that he could win again the stacked field this year, the drama of having him in there duking it out was excellent.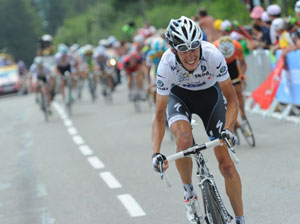 Meanwhile the first real mountains of the 2010 Tour provided the second real selection (the first was on the cobblestones in stage 3). The final 30 miles featured two Cat 1 climbs separated by a Cat 3, and the peloton was driven by Astana to shed everyone who wasn't a serious contender (including Sylvain Chavanel, who did his best in yellow to hang in there). Finally there was just a few elite men left, and bam Robert Gesink attacked! Contador marked him, probably using up his reserves, because later when Samual Sanchez attacked only Andy Schleck could go with him. The result was a win for Schleck which left Cadel Evans in yellow. (As he noted, it's a special day when you can swap the rainbow jersey [emblematic of the world champion] for the Tour's yellow.) Other contenders still in the mix included Schleck (0:20), Contador (1:01), Denis Menchov (1:10, a great place for him), and Levi Leipheimer (2:14, now the Radio Shack leader, one would think).
And so tomorrow is a rest day - and a digestion day, as everyone lets today's results sink in - and then we have more serious climbing on Tuesday...