| | |
| --- | --- |
| TDF stage 2 / rollers / crashes on slippery descent cause peloton to stop racing; Chavanel escapes to victory | |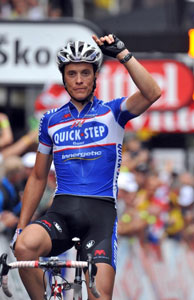 Well today was as weird a day in the Tour de France as you could ever hope to see. Rain exacerbated by gasoline from a crashed motorcycle resulted in a slippery descent on the backside of the penultimate climb, and caused a large number of crashes... the peloton called an informal halt to racing, and finished as a pack. Meanwhile Sylvain Chavanel escaped in the early break and stayed out all day, getting the victory as well as three minutes on the entire field, putting him in yellow and green!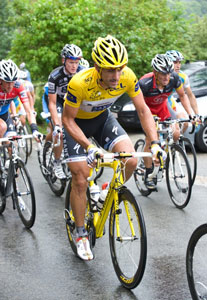 Fabian Cancellara was in yellow and was driving the peloton toward Chavanel when he heard that his teammates Andy and Frank Schleck had crashed hard. He throttled back and convinced the rest of the peloton to do likewise, enabling most of the crashees to rejoin, whereupon it crossed the finish en mas at a leisurely pace.
My own view is that while Cancellara did the right thing for his teammates, the peloton was under no obligation to stop; rain, slippery roads, crashes, and so on are part of bike racing, and it is what it is. I'm honestly surprised some of the sprinters didn't race it out for second. I've read that the officials have neuralized all the points for the peloton after Chavanel, which makes sense given the way they didn't race, but if ten guys had sprinted for the finish, surely they would have been awarded points also? How very weird.
Tomorrow we have the infamous stage 3 over cobblestones; doubtless there will be those who fall, and those who have mechanicals, and so on; let's hope the peloton race it out!
[Update: the various reactions from riders are interesting; I am a little more sympathetic now to the peloton's actions...]