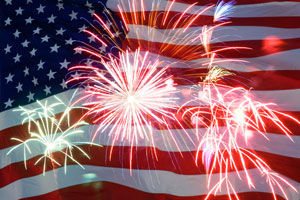 Happy Birthday to the U.S.A., greatest country ever... with all our challenges we are the place to be, the guardian of freedom and liberty, and hope and change (no sarcasm intended), and the pursuit of happiness, the place where people are free to dream and to work hard to make reality out of their dreams.
On this day I think about what it is like elsewhere; there are so many people who are not free, who do not have liberty or the ability to pursue their own happiness, who must hide their dreams and who may never have the chance to work to make them real. But I do, and my family, and my neighbors, and all my countrymen, and we must never take this for granted.
My biggest challenge today is compete in a sailboat race, and eat BBQ, and ponder the best wine to drink while doing so. I hope you have an equally great day! Happy Birthday!!