| | |
| --- | --- |
| I'm back... in the real world | |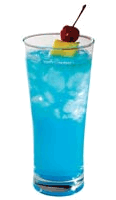 Well yesterday I was back physically, but today I am back mentally, landing back in the real world with a crash after a pleasant few days off and a nice Father's Day. Back to working out every day, back to scheduling myself every hour, back to checking email every minute (!), and back to worrying about many things in parallel continuously. And back on the road - in a few minutes I leave for Boston for a few days of meetings.
I feel this way at the start of each summer; reading blog posts past, the feeling is the same. I must get in front of this feeling, focus on the positive and enjoy my journey through time. I quote Dr. Suess once again:
Some days are yellow, some are blue, on different days, I'm different too...
So today is a blue day, following a day of blue drinks; I must make the most of it. Onward!