| | |
| --- | --- |
| how and why to stop multitasking | |
I came across a great article the other day: How (and why) to stop Multitasking, by Peter Bregman. There is some great advice in here; basically the message is that yeah, you can do ten things at once, but you can't do any of them well. And the net is that you'll be less happy and less productive than if you focus on one thing at a time.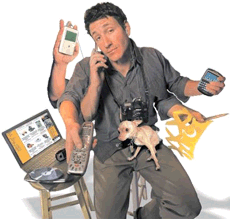 Peter did an experiment: "For one week I would do no multitasking and see what happened." And he discovered six things:
It was delightful
I made significant progress on challenging projects
My stress dropped dramatically
I lost all patience for things I felt were not a good use of my time
I had tremendous patience for things I felt were useful and enjoyable
There was no downside
There you go. Single-tasking is clearly better. It is interesting to consider why we multitask, but theory aside concentrating on one task at a time does make you more productive. So how do you do this? Well Peter offers some suggestions:
The obvious: The best way to avoid interruptions is to turn them off.
The less obvious: Use your loss of patience to your advantage.
The first suggestion is similar advice to my famous Tyranny of Email article from 2003 (still by far the most popular thing I've ever posted online). I find the worst source of multitasking interruptions is email. Stop reading it! And the second worst source of multitasking interruptions are blogs. Stop reading them! Now :)
The second suggestion is interesting; as Peter notes: "There's nothing like a deadline to keep things moving. And when things are moving fast, we can't help but focus on them." This is definitely true for me; I can procrastinate on something infinitely but when it is really due, I do it. And am astonished at my productivity while doing so!