Quite a day today; preparations for Megan's Party, in which we were invaded by 40+ 13-year-olds, and a reconnaissance ride of Rockstore preparing for the Amgen Tour of California stage 8 tomorrow, and then the party itself; an invasion of noise and fury in which nobody was hurt, nothing was broken, and a good time was had by all :)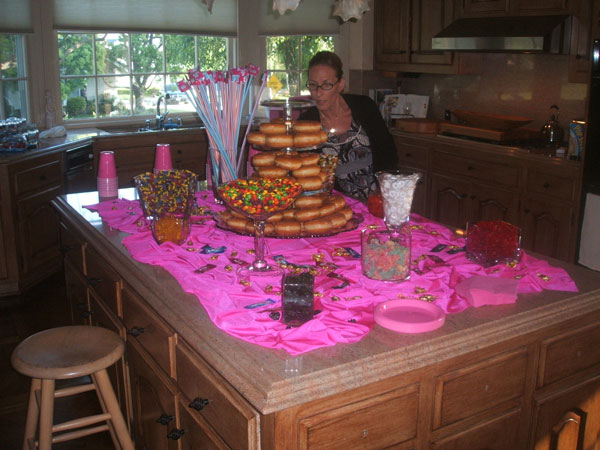 ...to give you a flavor of Meg's Party, Shirley prepares the "cake" made from donuts...
wrapping it all up, a little blogging...
From the Hmmm... department: Creatures of Cambrian May Have Lived On. Compelling evidence against those who thought the "post-Cambrian apocalypse" proved evolution wrong.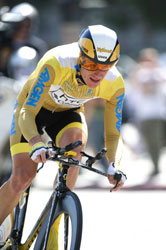 In today's Amgen Tour of California stage 7, an individual time trial in downtown Los Angeles, Tony Martin won (!) and teammate Michael Rogers slightly extended his tenuous lead overall over Dave Zabriske, now at 9 seconds. Levi Leipheimer was a disappointed fourth and now sits third overall, 25 seconds back. It sets up quite a showdown in tomorrow's stage 8, a circuit race in my backyard...
Meanwhile Vincenzo Nibali won stage 14 of the Giro d'Italia, as a tough mountain stage allowed the GC favorites to recover time and realign the standings after that weird huge breakaway mixed everything up. They're still quite a ways back, but you can see it will all be okay in the end...
John Gruber has some Post-I/O Thoughts. "What we've got here is a good old-fashioned epic rivalry. It's exciting, vicious, fun to watch, and ultimately should prove to be excellent news for consumers." Yep. He, too, notes Microsoft's absence from this party. It is interested to reflect on the fact that while I use Google every single day, all day long I have never paid them one penny. Even while they've earned a lot of money from me, indirectly. Meanwhile I pay Apple for stuff all the time. Different business models as well as products.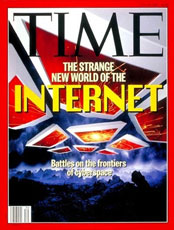 I love this, a Time Magazine cover from 1994: The Strange New World of the Internet. Ironic in that one of the biggest victims of the Internet's rise has been Time itself, which is now irrelevant.
RIP Martin Gardener, a pioneer in modern recreational mathematics and inventor of popular math games. For thirty years, he penned a math games column in Scientific American, and I read a lot of them. He will be missed.
Onward into tomorrow...