A _l_o_n_g_ day yesterday, round trip to Vista capped by a nice Kessel Run, and another today as I flew up to Portland to visit some customers. I am delighted to report that I had dinner at Ten-01 and can recommend it highly; fois gras and strawberries (yum), delicious Ahi tuna, paired with a marvelous Erath Leland Pinot, and capped off by a terrific cheese plate and some Warre's port. Ah, life on the road.
Big news today as Google's I/O conference kicks off... they've announced a Chrome App store, for web apps; interesting! Perhaps the biggest news was their stance; they are so clearly contra-Apple.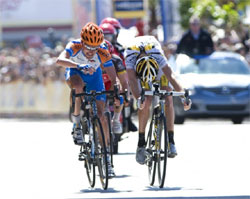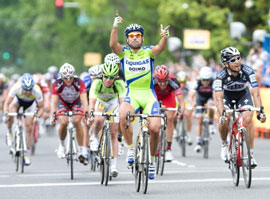 Dave Zabriske won yesterday's ATOC stage 3, as he, Michael Rodgers, and Levi Leipheimer left the field on the Bonny Doon climb to become the GC favorites. Those three finished 1-2-3 last year, too. Then Fransesco Chicchi won today's stage 4 in a bunch sprint; the big news was that Mark Cavendish didn't win as the GC remained unchanged.
Meanwhile, at the Giro d'Italia, the entire race was thrown in the air and shuffled as a break of 54 riders succeeded, putting ten minutes into all the contenders. I can't ever remember such a thing happening in a grand tour, but I guess that's why they race. Unbelievable. Vino is now nine minutes back, but still right among the contenders; it will be interesting to see how it all sorts out with a serious amount of climbing left...
And in some extremely sad cycling news, Floyd Landis has admitted doping, and accuses a bunch of other cyclists of doing the same. Shame on me but I had maintained Floyd's innocence all these years despite his disqualification for doping in the 2005 Tour de France. I guess I was wrong, and he was (as his book title says) Positively False. I don't believe all his allegations, first he has no credibility, and second as a fan of the sport I chose to believe today's controls are sufficient to prevent widespread doping. For sure this is sad news...
Headline of the day: Algorithm spots sarcasm -- suuuuure it does. How appropriate that it was developed at the Hebrew University :)