A rainy Monday, managed to enjoy it; sometimes it's nice to get a change of weather, right? Tomorrow I'm off again, to Vista, and then up to Portland Wed and Thu, but today had a nice quiet day working from home.
Warming up for a massive party Saturday too; Megan has just turned 13, and in consequence we're being invaded by about 50 seventh graders. So be it.
TheScientist reports Fate of Science hero uncertain, regarding the reelection prospects of Arlen Specter. "It isn't often that citizens from a single state in the union can dramatically shift the fate of research support in the United States, but Pennsylvania voters may have the chance on Tuesday (May 18). They head to the polls in a primary election that will determine whether democratic Senator Arlen Specter -- arguably the most celebrated champion of biomedical research in Congress -- will remain in his seat next year."
The inconvenient facts about global warming. I no longer know what to believe; it seems there is global warming taking place, it is exacerbated by human behavior, but it doesn't seem to be an impending disaster...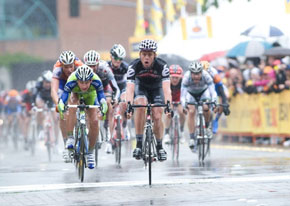 Of course not everyone enjoyed today's rain; consider the organizers of the Amgen Tour of California, who moved the TOC from February to May for better weather only to have a rain-soaked stage 2 from Davis to Santa Rosa. The weather was so bad the TV 'copters were grounded, making for a pretty boring viewing experience. In the end Brett Lancaster prevailed over Peter Sagan in a wet bunch sprint, leaving those two leading the GC as well. Tomorrow the selection begins in earnest with the stage to Santa Cruz featuring the Bonny Doon climb.
Scott "Dilbert" Adams with a marvelous post: The Value of Attention. "If the New York Times asked you to write a guest editorial, for no pay, on the topic of your choice, would you do it?" Absolutely! Read it; definitely worth your attention :)
The steady increase continues: Seagate confirms 3TB hard drive. Wow, unbelievable. And interestingly, they might have to make it look like two drives on older computers which can't handle drives larger than 2.1TB.
One way to get attention: IndiaRealtime reports companies might soon have a Chief Tweeting Officer :) Well at least I wouldn't have to change my acronym!