| | |
| --- | --- |
| in Ghent, Flanders, for the Tour! | |
Well I made it! A great flight via Amsterdam to Brussels - thank you, KLM - and a little drive in a micro-Peugeot diesel, and here I am, in Ghent, Flanders, ready to ride the Tour of Flanders (aka Ronde de Vlaanderen) tomorrow. I just ate the world's biggest pasta dinner and have been drinking as much as I can to prepare. Sleep will be good too.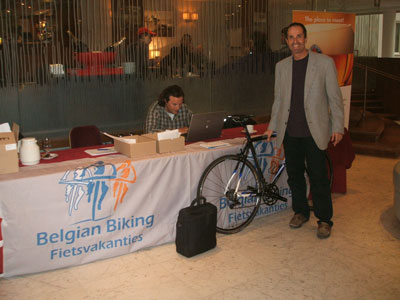 Most gratifyingly I have been treated like royalty for having come all the way out here from California to compete. There are over 3,000 entrants! Whew. And it is raining, and windy – perfect crappy Belgian weather for this race. I cannot wait – and I won't have to long, 'cause the start is at 0600 tomorrow. It's 260km (about 150 miles) with 15 short steep hills and 8 sections of nasty cobbles. I think it will take about 10 hours, we'll see how many of those 3,000 Europeans I can hang with :)
At right is a picture of me checking in for the ride, with my rented bike. It looks pretty cool, sturdier than a standard racing bike, better able to take the cobbles I guess. I brought my cleats and pedals and they popped right on. Well that's the news, please keep fXf for me and stay tuned for a full report!