So how was your Super Weekend? Mine was pretty Super :) Spent Saturday hanging out, blogging, getting caught up, and Sunday watching the big game with my friend Yogi (thanks for being an awesome host!) I was rooting for the Saints, mildly (returning to my Rams'/NFC roots) and enjoyed a pretty nice game paired with some pretty great food. Oh yeah and squeezed in a couple of Rockstore rides, too; fortunately our weather improved right on schedule.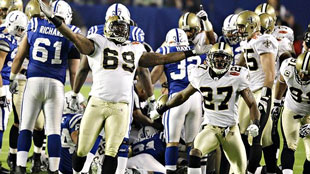 Some Super observations:
This game showed that in football, you win with a team. Peyton Manning and the Colts were probably better position-for-position than the Saints, but the Saints played like a better team.
You have to love that onside kick in the third quarter. Even if it didn't work, it was classic; but it worked perfectly and deliciously. I found myself yelling YES at the screen, along with you and millions of others :)
The Audi ads were the best. Cute and well focused. We all love being green until we encounter the Green Police...
The Google ad, while okay, was definitely not 1984 revisited. Oh well. It actually isn't clear to me why Google needs ads for search, I think it was just something they did that day. Their strategy seems a bit lacking.
The Who sucked. Some of these older acts that come back for halftime shows rock - like Tom Petty, and the Stones - but The Who truly have not aged well. (Not that they were ever that great before.) We won't be fooled again.
So ends another football season, whew. Time to start watching College hoops; go Bruins!