Early this year Aperio launched a cool service called SecondSlide ; it is a digital slide sharing service, which enables pathologists, researchers, and educators to share scanned microscope slides with each other. (Why not use Flickr or Slide? Well, the images are about 400MB each, and special serving and viewing software is needed to make sure it all works:) We had set a goal to have 250 active users for this year, and we've far exceeded that with over 400 already. So last Thursday night the SecondSlide team had a little celebration to mark achieving our goal. Naturally we decided to have a cake… with 250 candles. The result exceeded our wildest expectations: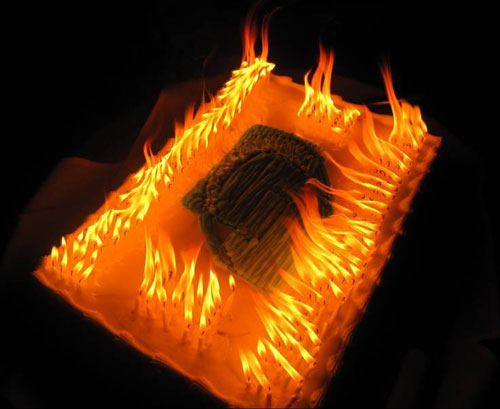 I do want to report that while nobody was hurt and no structures were threatened, you should not try this at home. It is not clear if we will be welcome back at the Charthouse :)
I believe the goal for next year will be in the neighborhood of 2,500 users. Stay tuned!