A really nice day - it started lazily, and it's ending that way (I'm watching yesterday's Colorado/Nebraska game, with two games from yesterday and three games from today left to view!), and in between I actually accomplished some "stuff". Best of all, I rearranged travel for tomorrow (I'm flying to Chicago for the RSNA conference) so that I'm flying on a redeye instead of all through the day. So I get tomorrow back! For more laziness :)
Cyclelog: back up Rockstore, with a wrinkle; I attached Megan's Flip video camera to the handlebars, and I got some great footage of the climb and the subsequent descent down Decker. Now I just need to install Premiere so I can edit it, and then YouTube here I come... stay tuned. The Flip is a wonder; so clean and easy, and it *works*. Created a new product category all by itself overnight.
It just came to me today, suddenly: Wow, it's almost my birthday! Huh. Last year as I was about to turn The Big Five-O (dum dum dum) it was very much on my mind, as a bad horrible not so good thing. This year, so far, is the big so what. 0x33 :)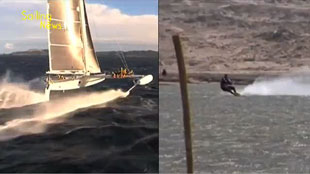 Video of the day: L'Hydroptere vs Kitesurfer... in a sailing speed bake-off. Excellent stuff. I still think L'Hydroptere is the most amazing sailboat I've ever seen, and that includes Alinghi's mega-cat and Oracle's mega-tri. This thing goes 50 knots in waves, stably, for miles on end. Amazing.
I am heading off to Chicago - downtown, featuring the Michigan Ave. shopping district (aka The Magnificent Mile) - and it will be most interesting to see how busy it is with pre-Christmas shoppers... the combination of the economy and online shopping seems to have diluted the "black Friday" flood this year, and I doubt it means everyone is just late; I think it means everyone is holding back. The recovery is not uniform and not trusted, especially with the Obama administrations missteps in every direction.
Caltech's excellent Engineering & Science Magazine has a new electronic format, check it out, very nice. A Flash player which doesn't suck. In the latest issue an article which is most relevant on Thanksgiving weekend: The Neural Basis for Self-Control. Antonio Rangel (pictured at right): "Many of the world's problems are the result of faulty decision making. If we could understand how the brain makes decisions, then maybe we could make better choices... I'm interested in self-control, which is at the core of many of the most pertinent public-policy and health issues in the United States." I'm interested in pumpkin pie myself :)
Can I just say, eBay really sucks now? Okay, thanks, because it does. Yeah it is still *the* place to buy and sell online because of the huge network effect, but the UI is horrible. So complicated, so many little nickel-and-dime extra options. I can remember when it was not so; eBay's UI was a marvel. It has cruftified badly over time.
Interesting... a company like eBay creates a network effect by out-executing its competition, but then stops executing, because it doesn't have to anymore. Like Microsoft. Like IBM before Microsoft. Could Apple be next?
PS gave up on Colorado/Nebraska as it is now 24-7 Huskers at the half. On to Boise/Nevada on the blue carpet. In pouring rain. As Boise jumps ahead to a 13-0 lead halfway into the first quarter, may have to switch again... (I love Thanksgiving weekend!) Um now it is 19-0. Wow, Boise are for real.