What could possibly be better than seeing Chickenfoot live, on the final date of their inaugural tour, right after they received their first gold album?
Seeing Sammy Hagar in his fourth major band (Montrose, Sammy Hagar, Van Halen, and now Chickenfoot), and seeing Michael Anthony [Van Halen] back on the bass, and Chad Smith [Red Hot Chili Peppers] wailing on drums? And seeing my man, Joe Satriani, the finest rock guitarist period, blazing away?
Nothing.
Well okay, what could possibly be better?
How about seeing them with my daughters Jordan and Alexis, and friends Bill, Jim, and Glen? Well that would be pretty good, what could be better?
Nothing.
Except...
How about seeing Chickenfoot live, but with Queensrÿche opening! I could not believe it. We got there just as the first act finished, and the stage was being set for the next band, and I saw the drum kit with the Queensrÿche logo, and I looked, and I looked, and I dared not believe it. And yet - there they were! Empire, Jet City, Della Brown, Silent Lucidity, the Thin Line... all my favorites, blasted at full volume. Geoff Tate sounds exactly the same live as he does on the albums, what a great voice. I loved every second. He even did a cool ballad with his daughter.
I totally would have gone just to see them!
...and then...
Chickenfoot!
WALL OF SOUND, man.
We're talking FULL volume, every kick on the bass drum hit you in the chest, the bass was throbbing, and Joe's riffs were incendiary!
I don't know if you've ever seen Sammy Hagar in concert - I've seen him three times now, once before with his own band ("Red!"), and then of course with Van Halen - but I must tell you he is one of those performers who is much better live. He radiates energy, and totally runs the show. I can't believe he still does it, he must be older than God, but man he does not look a day older prancing around the stage and screeeeming those lyrics.
Excellent.
And I had not seen Chad Smith before, but he is just great. He's this big old guy, and he sits behind his big old kit, and he beats the crap out of those skins, and yet weaves in some amazing subtle rhythms. He and Joe did a drum-and-guitar solo which was about the best thing ever. Just when you thought Chad couldn't pick it up any more, he did, and just when you thought Joe couldn't play any faster, he did. And they were dead on together.
It was wonderful.
Michael Anthony of course was the reliable force behind Van Halen, and in this band a few times he even cut loose for some bass solos, just having a little fun. I think he was just delighted to be back on stage in a major band with serious musicians, playing his music and keeping the whole thing together.
Which brings me to Joe Satriani, who is for my money the best, I mean really the best, even amid heavy competition, and now we know that he can be just as great in any band as in his band, with his driving riffs pounding away. About every fourth measure he sticks in some amazing little decorations, just for fun, some 1,024th notes to show you he can cut loose at any moment. His improvisation on Get It Up was transcending, sometimes the rest of the band just stops and watches him, amazed, along with the audience. At one point he was even playing two guitars at once, a steel acoustic and an electric, playing lead and rhythm guitar at the same time. Show off.
Chickenfoot.
Man, what a great concert. I will be smiling for a week, just thinking about it :)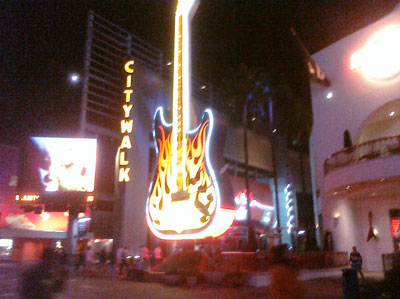 Universal Citywalk is the scene...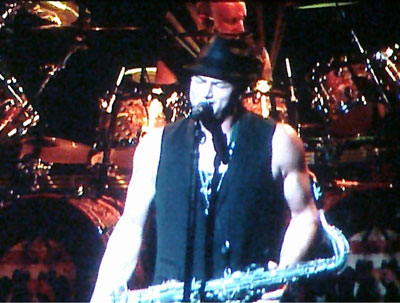 Geoff Tate and Queensrÿche open!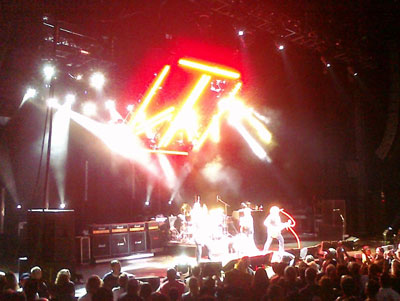 blazing lights, blazing sound = maximum energy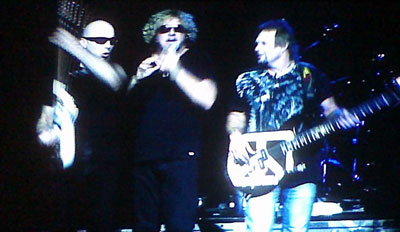 Joe Satriani, Sammy Hagar, Michael Anthony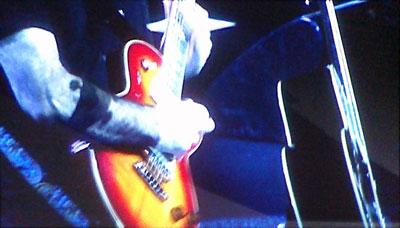 Satriani's guitar work drives the band's sound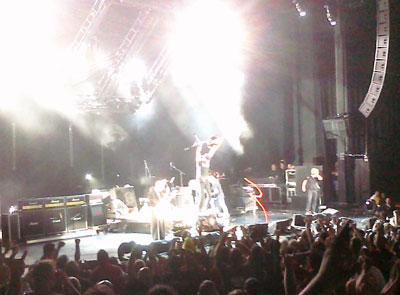 Chad Smith ends the show by destroying his drum kit
he had pretty much worn it out by this time anyway :)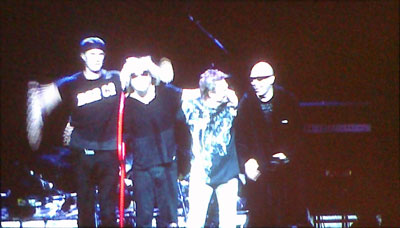 Chickenfoot! - thank you for an AWESOME show!