| | |
| --- | --- |
| Chickenfoot and the Beauty of Music | |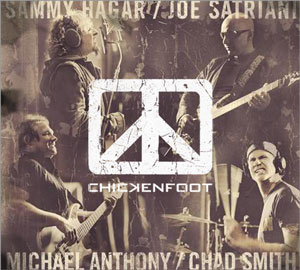 Regular readers know I am a massive fan of Joe Satriani, and an even huger fan of Van Halen, so you could predict I would love Chickenfoot, the new combination band featuring Sammy Hagar, Joe Satriani, Michael Anthony, and Chad Smith (of the Red Hot Chili Peppers)... and your prediction would be correct!
Yes, of course I have the album (it is GREAT), and yes, of course I have tickets to see them; Sept 27 at the Universal Amphitheater if you must know. And yes, I am oh so happy that there are still bands out there making this kind of music, even if the musicians are now a bit old for raging on stage (Sammy, you are 60+ man, act at least half your age :)
The music itself reminds me a little of - yes - Led Zeppelin, or perhaps Montrose or Deep Purple or Rainbow. Some of Satriani's incendiary guitar blazes through, although not enough for my taste, and Sammy is perhaps a little too Sammy, if you know what I mean, but Michael's bass riffs are as strong as ever, and the whole thing just works. Some great new music from a great new band.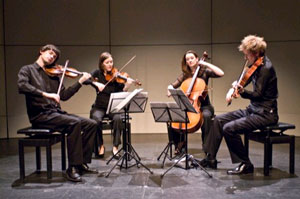 Which leads me to contemplate the beauty of music. Okay, I grant you the first adjective you would use for describing hard rock like Chickenfoot is not "beautiful", but there is this weird thing that goes on where people find music attractive. We like hearing it, listening to it, being a part of when it is made, and it is motivating and emotional to us. There is a connection at a deep level. Where does this come from?
I have suggested that our sense of Beauty evolved via Natural Selection, an argument I find convincing today. It was a general argument, separate from any sense, although I guess I was motivated by visual beauty when I wrote it. Auditory beauty is a little less accessible to me, but on reflection thinking that music is to hearing as abstract art is to vision seems appropriate. General aesthetic principles like simplicity, elegance, and symmetry are often components of art we think to be beautiful, applying equally to music, paintings, sculpture, etc. Music has a beat, rhythm, harmony, and melody, each relating to each other, and perhaps symbolizing those aesthetic principles. Which would imply that patterns in sound are attractive by accident; our brains have evolved to appreciate these elements in any sensory input, and recognize and respond to them whether they occur naturally or synthetically.
Interesting. I'll have to think about this a bit more. As I reach for the volume to CRANK Chickenfoot :)