Twenty-five years ago! Wow, guess what, that's when the Los Angeles Olympics took place. I remember it like it was yesterday, the sense of excitement and pride. Watching so many events, live! on TV. Driving around and seeing the banners. Knowing that my city was showing the world how it should be done. So what if the Eastern Bloc boycotted? Their loss. We did get China instead (as a result of a deal to name Tawain as Chinese Taipei), their first Olympics since 1952, a good trade.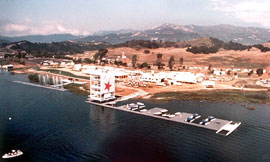 My strongest memory remains watching the rowing events on Lake Casitas. Every time I ride by that lake - which is pretty often, because it is right alongside route 150 between Ojai and Carpinteria - I think back to those magical days. I also remember watching Olympic baseball at Dodger Stadium. Although when I watch the Dodgers today, that seems like a million years ago, at the far edge of my memory.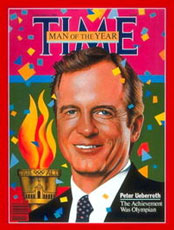 Stars of 1984: Carl Lewis! Edwin Moses! Joan Benoit! Mary Lou Retton! Connie Carpenter! (women's cycling...) Michael Jordan! (yeah, professionals were allowed in...) and... Peter Ueberroth! Seriously he was a star of those Olympics, as was President and ex-governor of California Ronald Reagan... what's interesting about seeing him now on the cover of Time Magazine as man of the year is remembering how important Time was back then :) Ah, those pre-internet days... when print mattered.
This was [I think] the first Olympics which was thoroughly televised; I remember filling VCR tape after tape, and watching snippets of all the weird events you'd heard about but had never seen. Diving. Weightlifting. All the track and field events; had you seen hammers thrown or a steeplechase before that?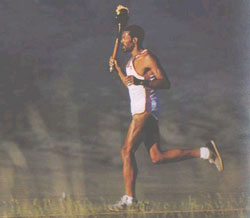 This was [I think] also the first Olympics where such a big deal was made of the torch relay; it started in New York and was continuously carried by runners to Los Angeles. Remember O.J.Simpson carrying the torch up the California Incline in Santa Monica? And Rafer Johnson running it into the Collesium? And the incredible spectacle and ceremony of the opening - not quite on technical par with China's last summer, but more amazing because it was all new back then; we had never seen such a thing before. All those athletes from all those countries, filing into the stadium in their national costumes.
Twenty-five years ago. Wow.