| | |
| --- | --- |
| TDF stage 21 / parade + sprint - Cavendish blows field away! + Contador triumphs + wrapup | |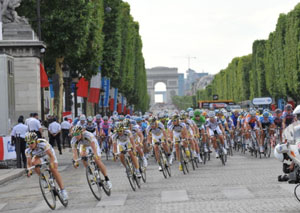 And so the 2009 Tour de France came down to the final day, the parade to Paris, starting this year in Montereau-Fault-Yonne and ending in the traditional eight laps of the Champs-Elyees. And there was a breakaway of seven riders, and they hung on gamely for seven laps before being devoured by the hungry peloton, led [of course] by Columbia Highroad to get Mark Cavendish to the line in a sprint. And there were several attempts to take over marshalling the peloton to the line, including a notable effort by Garmin Slipstream on behalf of Tyler Farrar. And Thor Hushovd hung in there too, looking for his chance, as did Oscar Freire (both previous winners of the green jersey and the final days' sprint). And in the end none of it mattered; George Hincapie and Mark Renshaw did their usual amazing leadouts, and Cavendish won going away. It was impressive and amazing, as Phil Liggett commentated no photo finish was needed because nobody else was even in the photo.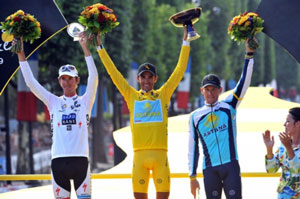 As expected none of the jerseys changed hands, so Alberto Contador won his second Tour, congratulations to him, and Franco Pellizotti won King of the Mountains, congratulations to him (and may I say, the red and white polka dots look magnificant with Liquigas' green and blue :), and Thor Hushovd won the green jersey by preserving his gap over Cavendish, and Andy Schleck was the best young rider in the white jersey. And in fact Andy finished second overall, a terrific result for him, and we will see him again you can be sure. And notably Lance Armstrong, the grand old man himself, finished third and hence mounted the podium for the eighth time in his career, alongside his teammate Contador. You can't say he was thrilled - everyone knew he was going for victory - but you can't say he was disappointed either; third at 37 after a three year vacation is pretty darn cool.
[Update: reflecting on this Tour, and on Contador's victory, few are giving Johan Bruyneel much credit. But man, he won his ninth Tour today as D.S., with his second guy, on his third team. And it could not have been easy to manage the competing egos and ambitions of Alberto and Lance, on one team, with Levi and Kloden thrown in for good measure. Pretty impressive. I know what he told the team before the Tour started: we might as well win. And they did :]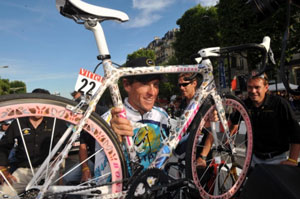 I'm always a little sad at the end of each Tour - now Shirley and I won't have to get up early and sit and watch guys in tight shorts riding around France every morning - but I'm more excited about next year; Lance is forming a new team (that's him with his cool "butterfly bike" at right), Contador will be back with a new team (which one, we wonder?), maybe we'll have Alexander Vinokourov back with Astana, maybe we'll have Michael Rasmussen back. And the race is in better shape than it has been for a long time, there were zero doping controversies this year, how nice was that? (Although it must be noted that erstwhile competitors Alejandro Valverde and Ivan Basso were not in the Tour this year in penance for past indiscretions.)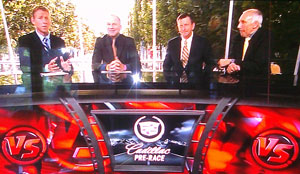 Finally I have to note I really enjoyed the commentary, as always and perhaps more than in other years; Phil Liggett and Paul Sherwen were at the top of their game, Bob Roll added his expertise (he really does know the most about cycling), and Craig Hummer did much better than last year, meshing better with the others and missing fewer opportunities to keep quiet. So until next year, Vive Le Tour!