| | |
| --- | --- |
| TDF stage 20 / climb - Garate conquers Ventoux, Contador and Armstrong stay with the Schlecks | |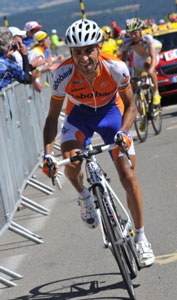 Woo hoo, Mont Ventoux! Juan Manual Garate won after riding in a break all day from Montelimar to the summit of Mont Ventoux. Chapeau! An incredible performance, edging Tony Martin at the finish (another survivor from the break) and salvaging glory for Rabobank, who otherwise have had a pretty lousy Tour. (Taken together with the team's aggressive chase yesterday Rabo have awakened at last, and who knows Oscar Freire could win tomorrow!)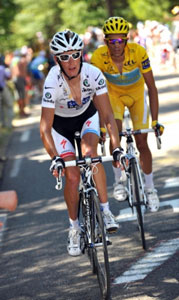 Among the GC men the expected fireworks took place on the final 21km climb @ 7.5%; Andy Schleck rode a wonderful race, continuously attacking in the hope that his brother Frank could follow and Lance Armstrong, Bradley Wiggins, and Andreas Kloden could not, thereby pulling Frank onto the podium. On each acceleration Andy was closely marked by leader Alberto Contador, who ended up fourth and secured his second overall Tour de France victory. Lance hung on beautifully, but Wiggins and Kloden were eventually dropped, with the result that Frank finished fifth. It was team tactics at their finest, witnessed by an estimated crowd of 500,000 people lining the entire climb. At times it seemed the riders were floating through a sea of people. (Isn't is amazing that as close as the spectators get to the action - and as aggressive as some of them are, waving flags and running alongside the race - that seldom is a cycle race actually affected by their presence?)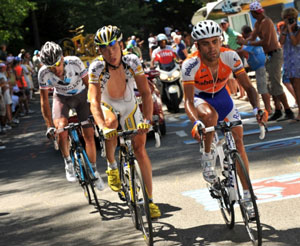 Other heroes on a heroic day included Franco Pellizotti, who did the spotted King of the Mountains jersey proud by attacking at the end, nearly bridging to the leaders, and Vincenzo Nibali, second in the white jersey competition for best young rider (behind Andy Schleck), who hung on gamely and at one point was actually in virtual third place, following the wheel of Contador as he marked Andy Schleck during an attack. Martin also deserves mention for staying up front with Garate, at times looking like a zombie as his eyes rolled into his head while his legs kept the pace.
In the end Mont Ventoux provided great entertainment but didn't shuffle the standings much; last week in the Alps and particularly Thursday's time trial pretty much set the order of finish overall. But it was amazing; of all the great climbs in France the one I really want to do someday is Mont Ventoux. (Well I guess I want to do l'Alpe d'Huez too, and Galibier, and Courchevel, and Columbiere, and Tourmelet, and Pla d'Aday, and ... :) Shirley and I watched A Good Year last night, coincidentally, and visiting Provence seems indicated!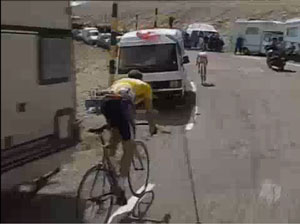 [Update: came across this clip on YouTube of Lance attacking and passing Marco Pantani on Mont Ventoux in the 2000 TdF. You'd have to say he has indeed slowed a bit, wow. That was one of the more impressive attacks I've seen, clearly on par with anything Contador has done. We'll have to see whether Lance can ever return to that form...]
And so ends a great Tour! And actually it isn't over yet, because tomorrow's parade to Paris does end with eight laps of that incredible stadium on the Champs-Elyees, and a probable final sprint showdown between Mark Cavendish, Thor Hushovd, and Tyler Farrar. Stay tuned!