| | |
| --- | --- |
| TDF stage 15 / climb! - Contador asserts himself, takes yellow | |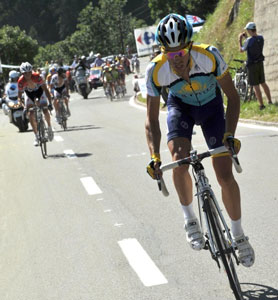 Today we had the second real selection in the Tour (the first was the team time trial nearly two weeks ago), perhaps the decisive one, as Alberto Contador attacked on the mountaintop finish of the Alpine stage from Pontarlier to Verbier and put over a minute into everyone, taking the yellow jersey and showing the field who's boss (right). Andy Schleck hung in there gamely to finish second, and Bradley Wiggins put in a great ride to finish third. Lance Armstrong remains in second overall but really couldn't stay with the fastest guys on the final climb, as Andreas Kloden guided him in.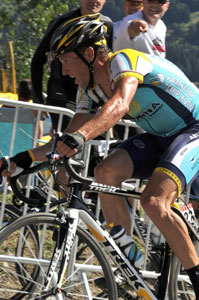 At this point you'd have to say the Tour is Alberto's to lose, just as you might have said going in... there are three more climbing stages and an ITT, none of which should scare him. His closest pursuers are Lance (left), who might be able to make something happen in the ITT but doesn't seem to pose a threat on the climbs, Wiggins, who is a real surprise and a threat for the podium, 1:46 back, and Andy Schleck, who can't TT with Alberto and who needs to pick up 2:26. At this point we can rule out Carlos Sastre, 3:52, who hung in there with the leaders but couldn't pick up time, Christian Vande Velde, 3:59, who had a disappointing day and lost a little, and Cadel Evans, 4:27, who like Sastre needs to do more than just ride with the leaders to make something happen.
Couple of things I want to note: as I thought about George Hincapie's ride yesterday (which left him a mere 5 seconds out of yellow) and listened to all the interviews, it seems to me that Astana screwed up. They really wanted George to be in yellow, but they underestimated the closing speed of the peloton and cut it too close. If they'd have let the break get two more minutes it would have worked nicely; George would have been in yellow and Highroad would have had to share the pacemaking today, which would have been good. So with all the talk of Garmin pushing the pace at the end and all, I really think Astana messed it up. But Shirley made a great point: "if George would have ridden a little harder, he would have taken it". In the end nobody gives you the yellow jersey, you have to take it for yourself. As Alberto did today.
The other thing is that watching today play out, it seems so obvious [now] that this was going to happen. In the Tour the teams matter, the tactics matter, the weather matters, etc., but in the end the best climber wins. Alberto was always the best climber, and he was always going to win. (You can remind me I wrote this after he bonks or screws up the ITT :) Anyway tomorrow we have a rest day, Tuesday and Wednesday more climbing, Thursday the ITT, Friday a stage for a break as the peloton rests a bit (!), and then Saturday the final showdown finishing at the top of Mont Ventoux.
[Update: At the Tour there are always great little stories within the big story. Consider Simon Spilak, who finished last on Friday's rain-soaked stage to Colmar and was eliminated on time – but was allowed back in because the race referee decided that he'd been hampered by having to ride on opened roads and cope with traffic. So today he got into the break, stayed up there all day, attacked, and was first to reach the final climb. He was ultimately swallowed up and finished seven minutes back, but was voted most aggressive rider of the day. Imagine how he feels tonight. I love it!]