| | |
| --- | --- |
| TDF stage 14 / flat - Ivanov attacks break to win, Hincapie narrowly misses yellow | |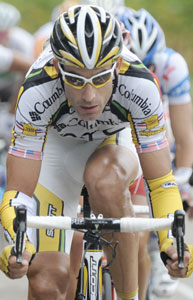 Weird doings on the road in France, as a day-long break of twelve riders stayed away on the [last] flat stage from Colmar to Besançon. Sergei Ivanov attacked the break with 5km to go for the win, but more interestingly the leader on GC in the break was George Hincapie, who missed taking over yellow by 5 seconds. Astana spent a great deal of time all day pulling back the break - why? - and Garmin spent a lot of time at the end pulling hard - why? - and their efforts combined to keep estwhile friend Hincapie from taking over the lead from Rinaldo Nocentini. It is tough to explain why Astana or Garmin would care, but apparently they did, to my chagrin and that of cycling fans everywhere. How great would it have been to see George wear yellow one more time?
Anyway that's that for the sprint stages until the final day in Paris; Farrar never did get a chance to try Cavendish one more time, and Thor Hushovd actually increased his lead in the points competition by winning the sprint of the peloton. Now we head into the Alps all week, where the Tour will really be decided; I am very much looking forward to tomorrow's stage. Velonews thinks Evans still has a chance, and tomorrow will be crucial, and we'll see what Levi Leipheimer's departure means to Astana. Stay tuned!
[ Tour de France 2009: all posts | index ]