| | |
| --- | --- |
| TDF stage 3 / flat?: Cavendish! Columbia blows the field apart in echelons, Cancellara keeps yellow, Lance gains | |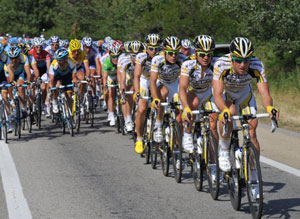 If you ever want to watch an exciting bike race, check out today's TDF stage 3, a "sprint" stage from Marseille to La Grande-Mott, this year's flattest stage. On paper it looked to be as exciting as watching paint dry, one of those 200K rides where the peloton tour the countryside for four hours before half a dozen guys execute a wild 30 second sprint to decide the victory. And that did all happen - the four hour tour and the 30 second sprint - but in between there were fireworks. Like the man said, that's why they play the game.
So with about 45K left to ride, the Columbia team had come to the front to chase down a four-man break, in order to give Mark Cavendish another shot at a sprint win. The road turned a corner and suddenly there was a strong crosswind, and Columbia gave full gas en mas, blowing away the peloton and taking about fifteen other riders with them. The new 25-man break swallowed the old four-man break, pulled away, and eventually built a 40 second lead while the peloton desperately tried to chase. Making the jump into the lead group were yellow-jersey-wearer Fabian Cancellara, the only Saxo rider to do so, as well as wiley Lance Armstrong and a couple of his Astana teammates. Mark Cavendish did win the eventual sprint finish, his second in two days, but the big news was the 40 seconds Cancellara and Armstrong were able to put into the other contenders. This left Cancellara in yellow - by 33s over Tony Martin of Columbia - and moved Lance up into third, 40s back and ahead of all the other GC contenders. Savor that for a moment... wow.
This adds some extra spice to tomorrow's team time trial, which was already pretty tasty. If Astana are able to get 40s on Saxobank - not an unrealistic possibility - and are able to get 7s on Columbia - a very realistic possibility - that would put Lance in yellow. Savor that for a moment...
There is of course all kinds of speculation that this was somehow setup, that Lance deliberately isolated Alberto Contador (and his other Astana teammates like Levi Leipheimer and Andreas Kloden) in order to seize the team's leadership. But watching it all play out it couldn't have been premeditated; it just happened too fast. One second you had a normal chase of a break, and the next you had a pell-mell scramble to grab onto the wheels of Columbia as they blasted into the crosswind. I think Cancellara and Lance were just being smart - riding near the front to stay out of trouble - and their wisdom in doing so was rewarded.
It is a long way to Paris and ultimately those 40s might not matter. But then again they might... I love it.