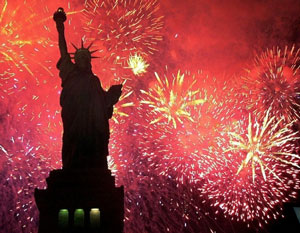 Good morning all and Happy Birthday to our country, born a mere 233 years ago. We may have challenges (as always!) but we have by far the best country on Earth, the haven of democracy and free enterprise, and the protector of freedom and liberty for all men everywhere. And fortunately we still have lots of great men and women willing to work hard to keep it that way.
I'm really fortunate; my biggest challenge today is sailing with Megan in the Westlake Yacht Club's annual 'Round the Island race, held each year on the Fourth of July, in which a bunch of disparate sailboats race to be first around Westlake Island. The island is joined to the mainland by a low bridge, under which you must pass, either by capsizing your boat or taking down your mast. Meg and I are racing our C-15, which besides being the fastest boat on the lake also is one of the largest and most complicated, with one of the tallest masts, and featuring a veritable rat's nest of control lines. We have rigged tackle to lower the mast and raise it again, but whether it will work in the heat of battle remains to be seen...
After that we have a family BBQ on tap, with much eating and drinking. Oh, and before everything we have watching the first stage of the Tour de France! Stay tuned for a full report on everything...
I hope you have a fantastic day yourself, and encourage you to take a minute and think about what a great country we have... Happy Birthday, USA!