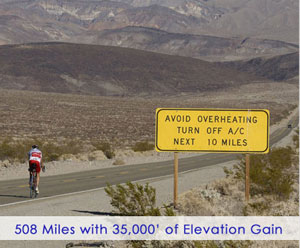 Remember last year, I was going to ride in this incredible ultra-century, the Furnace Creek 508? Yep that's 508 miles, starting in Valencia, going up through Death Valley, and then looping back through the desert to end in 29 Palms... all within 48 hours. I had done a comprehensive recon and everything... but then a couple of weeks before I got really sick and couldn't ride.
Well, I'm going to try again.
I just submitted my entry, mark your calendar, it's October 3-5. I'm excited and scared. Stay tuned for more...