Yesterday I did the ride from hell, honestly the hardest I've ever done. It was the Eastern Sierra Double, which starts in Bishop, CA, and normally goes North from there to Mammoth Lakes, June Lake, and Mono Lake, before heading over to the Nevada border at Benton via the Sagehen Summit. I say normally because this year there was snow forecast for Mono Lake and Sagehen, so instead of sending us North, they sent us South into the White mountains toward Death Valley, up and over Mount Waucoba, a nice little 7,500' peak. And guess what? It snowed! I have never been so cold. And the descent down the backside was maximally scary because the road was all icy. At the bottom my arms just about fell off from braking the whole way down. Then we had to turn around and climb back up, over 12 miles at 7%. My legs were not happy with me. Finally we descended back down in Owens Valley, took a deep breath, and were just halfway through the ride. The second half featured a little 80 mile out and back up to Benton on the Nevada border into a stiff 20mph headwind. Brrr and Grrr. It was horrible. Anyway I did it – yay me – and now I can brag about it.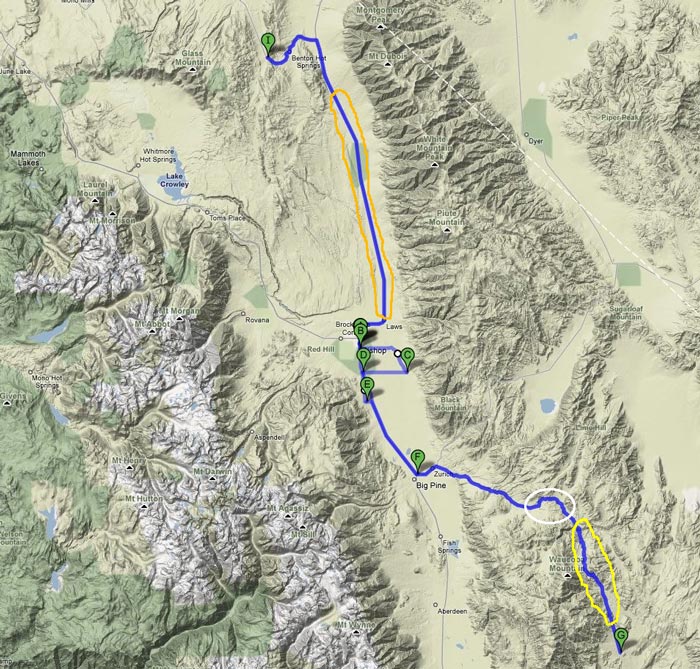 The (re)route; start in Bishop [center],
head south over Mount Waucoba (white outline indicates snow at summit),
descend wet scary road into valley (yellow outline),
turn around and ascend again (12 miles at 7%+),
descend back to Owens Valley and up to Bishop [center],
ride up route 6 to Benton (orange outline indicates 20mph headwind),
ascend climb to Benton Hot Springs,
and finally cruise back 40 miles downhill with tailwind (whew).
I have posted a bunch of pictures here if you're interested:
http://pics.eichhorns.com/pics.cgi?A090606-EasternSierraDouble
I like to say every bad thing that happens is a good story afterward, this was definitely a bad thing (or at least, a really hard thing), and now that it's over I guess it makes for a good story. I sure was one happy guy when I finished: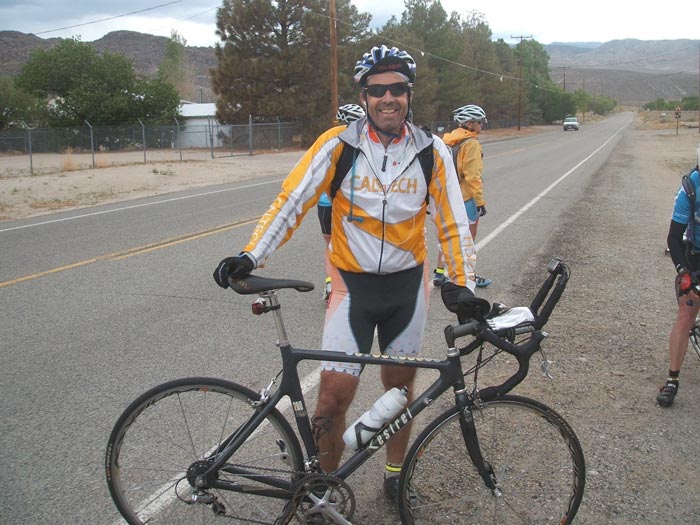 In chest-beating mode I will note that 150 riders started while only 50 finished, and I did it in a respectable 14:30. Finishing this ride meant I completed the Planet Ultra Grand Slam (yay me) along with only 9 other riders, and it is also my third double century of the year, which means I've completed the California Triple Crown again.
All these awards are designed to encourage the extreme masochism that these rides require... so why do we do them? Why do I do them? Enjoying the exercise and the chance to view amazing scenery is part of it, and hanging out with a little fraternity of fellow riders is another, but I think at core it has to do with the way it makes me feel about myself. I like knowing I can do these rides, and I carry the knowledge around with me like a little jewel, to be taken out periodically and savored.
Next up? The Grand Tour Double, in three weeks, and then in mid July the Death Ride (dum dum dum). Stay tuned.