Wow, sorry for the gap, but I have been busy... Thursday I had a one-day business trip, got home late, and yesterday I drove back down to Vista for a business meeting, and then went bowling with the rest of Aperio (worst game of my life, but had a great time). And then drove back in Friday afternoon traffic for a fun party with friends. I know, I know, a reason is no excuse, but that's my reason...
Oh yeah and no, I did not ride the Ojai Valley Century today; instead I slept :) For about twelve hours, whew! I figured it was okay since I just rode the Heartbreak Double and have the Eastern Sierra Double next weekend...
Meanwhile, it's all happening...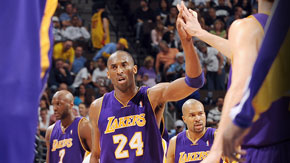 Yay, Lakers! I am such a fairweather fan, I barely pay attention to pro basketball at all until the playoffs, and barely notice the Lakers until they make it to the finals. Which they did, beating Denver last night... watched from our friend's party. Now I'm pulling for Cleveland to survive Orlando so it can be Kobe vs. LeBron in the finals - fXf!

Peter Robinson: The problem with California. "The central problem in the Golden State–the disorder that affects every aspect of state government–can be described very simply: The political class in Sacramento believes the people of California exist for the state government, not the other way around." I am confident we'll reverse the tide, but things have gone badly wrong. And unfortunately Arnold has become part of the problem, not the solution.

Schwarzenegger: California will support hydrogen, always. Never mind that we don't have the money, nor that it makes no sense in the first place. That's the kind of thinking that got us where we are, I'm afraid...
Apparently GM is going to file Chapter 11 on Monday. Wow. We have to wonder if they'll ever come out of it, of whether they'll be a ward of the state forever. I guess that would depend on whether they build cars people want to buy again. My own guess is no, they will not. I can't imagine a government-owned corporation doing anything innovative...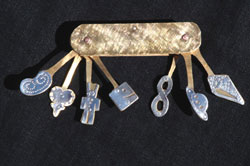 The awesome Swiss Writing Knife. How cool is that? Makes me wish I was a writer. Oh, wait a minute, I am!

BTW any ideas what a Swiss Coding Knife would look like? I guess maybe it would be on-screen rather than physical, right... could have various virtual tools for user interfaces, algorithms, debugging, and perhaps blogging :)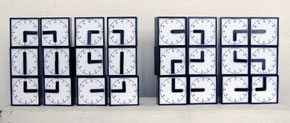 Here we have the analog digital clock. Which is to say, a digital clock made out of analog clocks; the clock hands form the "LED" segments. I love it.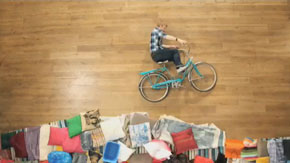 This movie is amazingly cool: Sorry I'm Late. It takes a little while to realize it was shot stop-action, from above, onto a hardwood floor. [ via Boing Boing ]

I haven't blogged about it every day, but I've been closely following the Giro; Denis Menchov continues to maintain a small lead over Danilo Di Luca, and looks to be the champion if he can hold on in tomorrow's time trial. I've always liked Menchov, and not just because he rides for Rabobank (!), but although he's won two Vueltas I didn't regard him as a top-tier GC rider until this Giro. With the competition in this race, if he wins he's definitely in the top tier, wow. I think Levi Leipheimer will probably win the time trial tomorrow, but he has no chance to win overall and only a slim chance to move up to the podium.

One more note on the Giro: it is great to see Ivan Basso back, and amazing to see him in fifth overall, just ahead of Levi, in his first major race back. He's going to be a threat in the Tour for sure.
In the wake of Microsoft's Bing announcement (their new search engine), we have Bing vs Bing...

There are apparently Bing ads on Google. Already. Cool. And how funny :()
TechCrunch wonders What Happened? Thursday was supposed to be Bing Day. "One problem right off the bat: the Bing.com site wasn't live. Another problem: A team of Google engineers based in Sydney was simultaneously announcing a stealth project 4+ years in the making called Wave."

You never want to under-estimate Google, but I can't figure out what Wave is all about, which is a bad sign. If it is that cool, you would think it would appear to be that cool to me. Well stay tuned, we'll figure it out together...

Here's John Gruber's take; he's skeptical like I am, but cautiously so, like I am.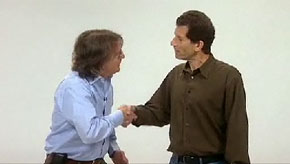 Meanwhile at the "D" conference, Rubenstein and McNamee are Remaking Palm. The video linked at right is awesome; a fake commercial in which McNamee makes over-the-top pronouncements about the Pre while Rubenstein interrupts with the truth. Which is also a bit over-the-top, despite being true :) Only a week before the Pre is out!

More Pre: the Boy Genius report, with a pre-review. He likes the screen and WebOS and the size, the keyboard not so much. Too bad, but at least it has a keyboard. Anyway enough with the Pre-hype and Pre-reviews and all, I want one! Fortunately there is only one more week to wait...

Even more Pre: DVD Jon on how it interfaces with iTunes...

Okay one more: the Pre has a 3.5mm headset jack. Which means... it doesn't suck, for that reason anyway. Although that might mean I'd have to get a new headset, which kind of sucks...

Scoble: Why the "D" people are wrong about Web 3.0. "The idea that we have a version for the Web is just plain ridiculous. It makes the innovations we're implementing too easily dismissed. How many times have you heard that "Twitter is lame?" I lost count 897 days ago." I think Robert's right about Web 3.0, but I still think Twitter is lame :)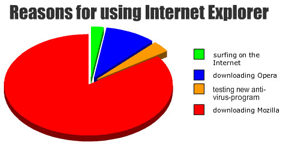 This is pretty funny: reasons for using Internet Explorer, and pretty true; downloading Firefox is by far the biggest reason :) I never run IE, except perhaps under IETab under Firefox in order to load a site which bogusly requires it or perhaps to do some testing. It is interesting to see that "downloading Chrome" didn't make the list. Yet.

Oh, and looks like we're going to get Chrome Extensions, yippee. Hopefully this will allow us to get Adblock for Chrome, too...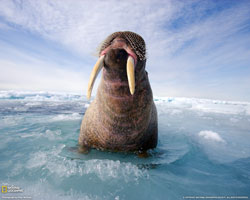 Picture of the day: an Atlantic Walrus. (please click to enbiggen!) Wow, they're amazing. Perhaps someday we'll even have a Walrus ZooBorn, but in the meantime...

ZooBorns of the day: Prairie Dog pups!