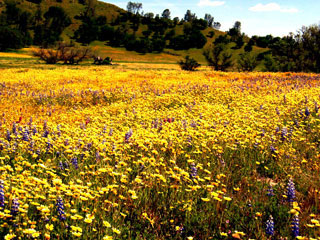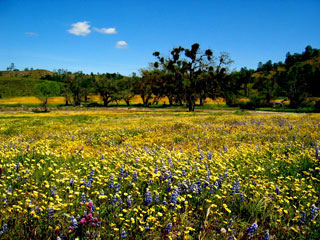 I'm getting ready for riding in the Wildflower Century this Saturday, pretty excited about it, actually. It isn't necessarily a hard century - no century is easy, but this one has "only" 6,000' of climbing, which is pretty reasonable - but this ride has the reputation of being amazingly beautiful; all on back roads with little traffic, rolling hills, great weather, and of course wildflowers! (Yes I will be bringing my camera as usual so please stay tuned...)
One of the cool tools for getting ready for a long ride on a course you don't know is Google Earth. You can see the lay of the land, where there are cities and towns, how far the checkpoints are from each other, the kinds of roads, and of course check out the climbs and descents. Here's a view of this ride, from high above in the virtual air: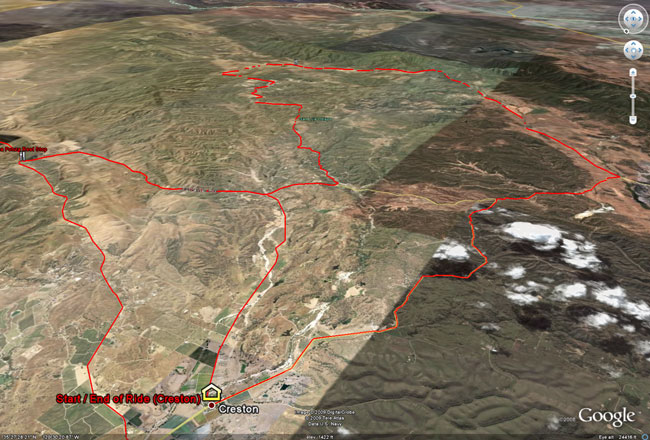 Creston is East of Paso Robles, pretty much in the middle of nowhere; this is a view looking South into the mountains. There are hardly any towns anywhere in there; who knew there was so much open land between I5 and California 101? It does look like there is plenty of up and down even if there aren't any fierce summits.

And yippee the weather looks like it is going to cooperate also. So now I just have to eat a lot tomorrow - as much as possible, protein and carbs - and get enough sleep. Oh yeah, sleep... well first a little blogging, and then sleep :)