| | |
| --- | --- |
| have you ever been experienced? | |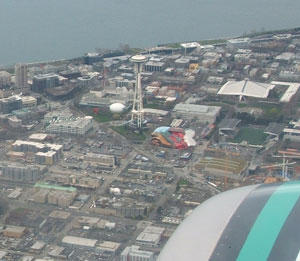 My colleague and I had a little time today between a meeting with a customer and our flights, so we checked out Seattle's Experience Music Project (if you've ever been in Seattle, this is the Frank Geary -looking collection of colorful buildings at the foot of the space needle). This is sort of a hands-on music museum featuring a lot of Seattle history (like Jimi Hendrix, Nirvana, etc.) and some cool ways to try and play instruments. I really enjoyed the little sound rooms where you could play the drums, guitar, bass, and keyboards. They have sound mixers you can screw around with too...
The EMP also has quite a collection of rock memorabilia, show banners, costumes, instruments, diaries, etc... and have a large collection of old concert movies. I really liked seeing and hearing early Soundgarden, for example (Paul, if you're reading this, yeah, they were great) and it was cool to see Pearl Jam, and Nirvana, and so on... oh yeah, and Heart (Heart!) remember them? I do, I can remember them opening for Peter Frampton at the Shrine Auditorium in L.A.; I had never heard of them, and there were these two girls (a girl on lead guitar?), and man did they kick ass. I'm not the biggest Hendrix fan but at some level we're all Hendrix fans because there is no denying, he changed the way people play electric guitar forever after.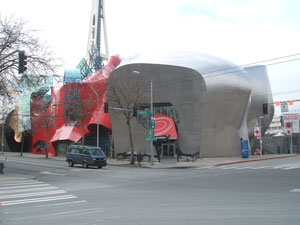 I'm going to say it wasn't the coolest thing ever, but it was engaging and interesting and certainly worth doing [once]. If you have kids who are interested in music, or who might be interested in playing music as opposed to merely listening to it, then it would definitely be fun; I could see my daughter Alex having a blast.